PowerColor Radeon 9600XT Ultra Videocard Review
---
I always cringe when I hear gamers talking about getting a new Dell, HP or Compaq.... sure they get a lot of "fluff" with those PC's, but I suspect they'll ultimately be disappointed when comes time to play the latest and greatest DX9 games. It's not really their fault though, it can be confusing shopping for your first "killer gaming rig," and brand names with their slick advertising are an easy route to go.
When the time comes to upgrade their brand name PC for more kick, I know I'll get an e-mail about what new videocard to buy. After all, what fun is a computer if you have to game through a choppy session of UT2004, Call of Duty or the new FarCry demo? If their system is state of the art, I might recommend a videocard like the Radeon 9800 Pro.
If their system is more mainstream, a Geforce FX5900XT, FX5700 Ultra or perhaps even a Radeon 9600XT might just be what the doctor ordered... Which leads us to the PowerColor Radeon 9600XT Ultra videocard we're pumping the pixels through in this review! Let's take a walk on the mainstream side of gaming, and see how the PowerColor compares to the competition when you're back is up against the wall, and you need 70FPS to get out alive!

PowerColor Radeon 9600XT Ultra



Includes:

Users Manual, Driver CD, WinDVD 4, 6 Game Demo CD, Big Mutha Truck, Tomb Raider TAOD, DVI to analog converter, S-Video to Composite Cable, S-Video to S-Video Cable
The PowerColor Radeon 9600XT Ultra has 128MB of 2.5ns Samsung BGA DDR RAM backing the GPU up. The card supports TV-Output, and PowerColor include all the necessary cables, including; an S-Video-to-S-Video cable and an S-Video-to-Composite converter. If you want to take advantage of the card's dual monitor capability, they also toss in a DVI-to-analog adaptor. The software package consists of WinDVD 4, a six game demo CD, Big Mutha Truck and a the full version of Tomb Raider TAOD. Cool!
It shouldn't be any surprise that the PowerColor Radeon 9600XT is based on the ATI reference design - virtually all Radeon's are. PowerColor have slapped on a custom extruded aluminum cooler, and while it makes allowances for cooling the front memory chips, they seem to have forgotten all about the memory on the back of the card.... or perhaps it really wasn't necessary to slap on a heatsink there. Under power, the fan on the 9600XT Ultra lights up bright red, which certainly adds a bit of flair. It runs pretty quiet too.

Considerately, PowerColor include all the necessary cables you'll need to use the TV-Out feature. It might seem like a minor detail to mention, but not every videocard comes like this, and it's a real let down when you have to go to your local electronics store to buy the proper cable.
Curiously, when I started testing out the PowerColor Radeon 9600XT Ultra at first, I noticed that it consistently scored higher than the reference 9600XT videocard in our benchmark set. I was a bit puzzled, but after a bit of snooping around, it seems that PowerColor clock the memory at 337 MHz instead of 300 MHz (which is the stock speed for the 9600XT).
The slightly faster memory guarantees that PowerColor's Radeon 9600XT Ultra is going to come in faster than the rest of the competition. Very nice.
Overclocking the Powercolor 9600XT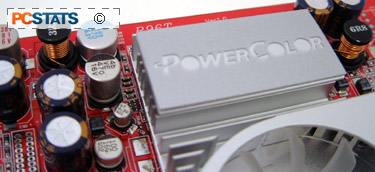 For the overclocking tests, I started with the core first, which is clocked at 500 MHz by default. As the core speed was increased past the 550 MHz mark, the little RV360 core didn't even break a sweat. It maxed out at a very nice speed of 578 MHz, without any sign of visual artifacts.
It's been touch and go overclocking the memory on Radeon 9600XT/Pro cards in the past, but the PowerColor Radeon 9600XT Ultra is something special. First off, the card uses Samsung K4D263238E-GC25 BGA DRAM modules - faster DRAM than that found on the Radeon 9700 and 9800 Pro based models! In fact, according to Samsung the memory should be capable all the way up to 400 MHz; great news for overclockers!
Without much surprise, the memory ran flawlessly all the way up to a maximum of 408 MHz... still a heck of a lot faster than any other 9600XT we've seen!
Surprisingly, the core and memory did not overclock well together, causing the card to lock up in 3D applications. Knowing that the 9600XT care is pretty much memory bandwidth limited, I decided to only lower the core speed before trying again. Unfortunately I had to lower it all the way down to 542 MHz for things to sort themselves out. Anything higher and the card was unable to finish the benchmarks. Still, a speed of 542 MHz core and 408 MHz memory got us some pretty impressive performance figures for what is otherwise a nice mainstream card.
Up next, the benchmarks you've been awaiting!