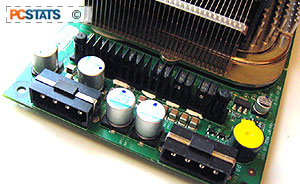 Additional power connectors are nothing new to videocards, both ATI and nVidia have introduced Molex connectors on their higi-powered cards, but the NV40 takes this one step above and beyond the current power requirements. The NV40 draws enough power to require a second four-pin Molex connector... Add to that the fact that nVidia recommend a 480W power supply to accommodate the card's demands on the +12V rail, and users upgrading an older system may be faced to deal with externalized hardware costs.
It should come as no surprise that the NV40 was natively built to be an AGP card. After all, there still aren't any PCI Express chipsets on the market, and availability isn't expected for at least another month or two. When Intel's i925x Grantsdale chipset does arrive, expect both ATI and nVidia to introduce corresponding products for PCI Express X16 slots. ATI's will support PCI Express natively, while nVidia will employ a bridge chip at least until NV45 is introduced.
The GeForce 6800 Ultra - that is, the 16 pixel-pipeline, dual-slot, dual-power connector version clocked at 400/550MHz - will debut right around the $500USD mark. nVidia has a variant of the same card planned as well. The GeForce 6800 is expected to boast 12 pipelines, a single-slot form factor, a single power connector, and a $300USD price tag. Unfortunately, there's still no official word regarding that card's operating frequencies yet.
What is Shader Model 3.0?
The current crop of high-end graphics hardware supports Microsoft's DirectX 9.0 API, including the Shader Model 2.0 specification. However, the specification has evolved, and the latest version of DirectX, yet to be released, is being called 9.0c. The primary additions to DirectX 9.0c are Pixel and Vertex Shader Model 3.0, both of which nVidia claims will enable longer programs and consequently enhanced quality and augmented performance.
Pixel Shader 3.0 looks to be an evolutionary extension to the 2.0 (and subsequent 2.0a and 2.0b) specifications. It includes provisions for unlimited dependant textures and an infinite number of texture instructions. Further, it raises the maximum number of executed instructions from 512 to 65 thousand, simultaneously increasing available registers, including four Multiple Render Target buffers, and requiring dynamic flow control.
Pixel Shader Model 3.0's final contribution is an FP32 precision requirement, which NV30 supported, albeit at a significant performance degradation. ATI's new X800 XT videocard on the other hand, is limited to FP24, which is one of the reasons ATI can't claim Shader Model 3.0 compliance.
The Vertex Shader 3.0 spec is similarly evolutionary, and also supports programs with up to 65 thousand shader instructions. It offers displacement mapping, geometry instancing (for rendering multiple objects based on the same model), and vertex texture fetching. Like the Pixel Shader 3.0 specification, the Vertex Shader Model 3.0 requires dynamic flow control.
In a nutshell, the purpose of the new Shader Model specification is to afford software developers more flexibility and efficiency in writing shader programs. Naturally, concessions will need to be made in order to ensure acceptable performance, but it's nVidia's hope that developers will adopt the Shader Model 3.0 specification, where necessary, and put its features to use. These things don't happen overnight, though, and if a shader can be written using the 1.1 specification, you can be sure that developers will opt for the most broadly supported spec. Thus, don't expect the benefits of Shader Model 3.0 to surface immediately.