Abstract: When AMD integrated a memory controller into the Athlon64 processor, they took away one of the key performance features that differentiates one chipset from another.


91% Rating:

Home > Reviews > Motherboards > MSI K8N Neo-FIS2R
MSI CoreCell Chip and Overclocking

By now you've noticed the aluminum "Core Cell" block just under the DIMM slots on the motherboard. What exactly is Core Cell, and what does this MSI chip do?
Core Cell is MSI's new catch phrase (read: marketing tool) and it has a number of features, including; decreasing overall system noise, power saving functions, prolonging the life of system components, and even overclocking, apparently.
Depending on what you're doing, Core Cell can slow down the CPU and other system fans by up to 50% which should help reduce overall system noise for those of you who are sensitive to sound.
Unfortunately MSI's literature is not very specific about how their Core Cell technology saves on power, or prolongs the life of your components.... Info is hard to come by so I have to admit we're a little in the dark on the full explanation of the little IC which hides below the shiny aluminum block.
Probably the biggest feature MSI are touting for Core Cell are its overclocking functions. It apparently gives the end user the ability to not just overclock their system within Windows (FSB and voltage adjustments available), it also allows the system itself to dynamically overclock your computer by default (up to 11%) when the system is under load! While this is a really cool option, I think MSI should disable the feature by default instead of having it enabled.
Overclocking
I'm sure all the AMD fans in the crowd are interested in seeing how well the MSI K8N NEO-FIS2R overclocks. ;-) Well with our trusty AMD Athlon64 3200+ processor and a couple sticks of Corsair's finest TwinX3200LL RAM, I began to raise the clock speed of the motherboard slowly. At around 213 MHz the memory started to give us a bit of problems, so I jacked up the voltage to 2.85V and that smoothed things out.
I continued onwards and amazingly didn't encounter any other problems all the way up to 232 MHz! To get past that mark we had to lower the memory timings to 2-3-3-6, but after that was done we could go as high as 240 MHz , definitely very good for an Athlon64 based system.
Because 232 MHz with memory timings @ 2-2-2-5 performed better than 240 with loose timings, we ran all the benchmarks at 232 MHz.
The BIOS:
Not exactly the most exciting DRAM configuration screen, but MSI do give users the usual CAS Latency, RAS to CAS, etc memory timings.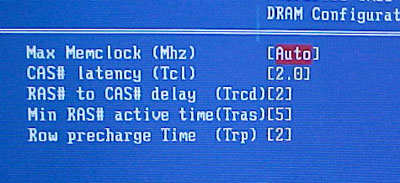 Interestingly enough, MSI do not enable the 1:1 memory divider option; the only ones that are available are 2:1, 3:2 and 5:4. To get the memory to run at the same speed of the motherboard you must set the Max Memclock to auto.