Abstract: Does that old 250W not cut it anymore? Runing a few peltiers on that Athlon? Looking for something with a little more juice.... have a look this 350W monster with M/B fan speed monitor from Enermax.


84% Rating:

Home > Reviews > Power Supply > Enermax EG351P-V
Enermax 350W Powersupply Overview
---
Does that old 250W not cut it anymore? Running a few peltiers on that Athlon or CuMine? Looking for something with a little more juice.... then have a look this 350W monster with motherboard fanspeed monitor from Enermax.
350W ATX-E Power Supply
90mm BB intake fan
80mm BB exhaust fan
Thermally controlled fans, with visible BB
MB Fan speed monitor
Noiseless, Long life
Meets Intel 2.01 & 2.03 Ver.
Real "sleeping mode" PS (fan control)
8 HDD, 1 FDD connectors
115V/230V
1 meter long wire leads
Cost: $80 CDN
Probably the first thing anyone who has this powersupply will notice are the clear fan blades which visibly show off the Ball Bearings. I guess Enermax realize a lot of OEM's claim to use ball bearing based fan systems but don't always deliver. We've had one or two experiences with that. Mfg's insisted ball bearings were used, but with closer inspections (ie taking the fan apart) sleeve bearings were what was actually used. Granted it may be a little thing to worry about, but I have several powersupplies that have been junked because the sleeve bearings dried out and seized, therein causing the powersupply to go above its rated operating temp. Nothing like the smell of flux coming from one's computer to get the heart racing...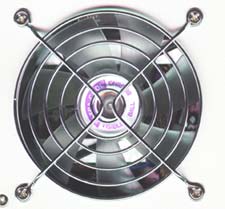 The EG351P-V we have was put into a mini-server case, an essentially bar fridge sized contraption. The areas which house the motherboard and cards is separated by a wall from the hard drive and another components like the CD-ROM. The powersupply is located in this region, so the wires have to travel a ways to get to the mother board, and any case fans. Enter in the long ATX power connector - about 30", and the three sets of HDD connectors which stretch about 1 meter. Long wires a definite must for a server case, and an added luxury for a full tower.
| | |
| --- | --- |
| The only problem we saw with the powersupply had to do with the fan monitoring cable. It worked well enough, but the fan speed was lower because of the sheer size of the fan, and the particular monitoring software we used (AOpen) assumed it was a bad fan, rather then a case fan. Its a great feature to have, so long as the software behind it is good. | |
Full Specs
Model No.

EG351P-VE

I/P

Voltage rating

90V~135V AC or 180V~265V AC
(selected by slide switch)

Iin=115/230Vac

10A/6A

Frequency

47Hz~63Hz

Inrush current

40A max. / 115V; 80A max. / 230V
(at cold start)

O/P

DC
Voltage

Ripple & Noise

Total
Reg.

Output current rating
MIN / MAX

3.3V

50mV

4%

0A / 30A

+5V

50mV

5%

8A / 32A

+12V

120mV

5%

3A / 12A

-5V

50mV

10%

0A / 1A

-12V

120mV

10%

0A / 1A

+5Vsb

50mV

5%

0A / 1.8A

3.3V & +5V

160W

TOTAL O/P

330W

Hold up time

17ms min. at 230V AC full load

Over Power Protection

105%~160% of max load

Over Voltage Protection

+5V: 5.6V~6.9V
+3.3V: 3.7V~4.5V

Efficiency

70% min. at full load

Cooling

Air convention by +12V DC fan

Operation Temperature

0oC~25oCfor full rating of load,
decrease to zero Watts O/P at 70oC

Storage Temperature

-20oC~80oC

Humidity

Operating: to 85% relative humidity ,
non-condensing At 25oC
Storage : to 95% relative humidity ,
non-condensing At 50oC

MTBF

100K hours at 25oC, 70% full rated load

EMC

EN 55022 Class B
FCC Class B
IEC 801-2, 3, 4, 5

Dimension

W150 x H86 x D140 (mm)




Contents of Article: Enermax EG351P-V

---