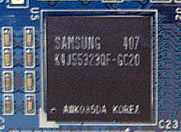 The main advantage DDR2 has over good ole DDR memory is that it runs on a lower voltage, which lowers the power requirements, and allows it to scale higher with a small latency penalty.
GDDR3 (Graphics Double Data Rate3) takes this one step further, requiring less voltage than DDR2, and scaling even futher (though with some latency penalty). While the motherboard industry is making the transition from DDR to DDR2 memory, right now GDDR3 is only used on graphics cards. There are no current plans to migrate GDDR3 to the motherboard level - but who knows what the situation will be a year or two down the road. GDDR3 and DDR2 do share one thing in common, they are only packaged in BGA modules - leaving the old TSOP-II to be finally retired.
Micron were first out of the gate with GDDR3 DRAM modules, but the memory found on the Albatron GeForceFX 5700 Ultra is actually using Samsung K4J55323QF-GC20 GDDR3 DRAM. Compared to the Samsung K4N26323AE-GC22 DDR2 DRAM modules we find on earlier cards, the Samsung GDDR3 memory requires just 2.0V compared to 2.5V for DDR2. This which should help ease up on power consumption. However, as GDDR3 RAM runs with an even higher latency than DDR2, nVIDIA have had to clock the memory 50 MHz higher as well. This should offset any performance penalty that GDDR3 has over DDR2.
Overclocking the FX5700U3!

As usual we started with the core overclocking first; from 450 MHz we slowly went up a few MHz at a time. The core was a pretty good overclocker and the FX5700U3 went all the way up to 571 MHz before it started to have any problems. Anything higher though, and the computer would lock up when running any 3D application.
Since this is the first time we've dealt with GDDR3 we really don't know what to expect from the memory... but with 2ns DRAM we were hoping to hit some nice speeds. By default the memory is clocked at 950 MHz, 50 MHz higher than regular GeForceFX 5700 Ultra DDR2 based videocards. This is done to make up for a small latency penalty.
Not surprisingly we were able to crack the 1 GHz mark quite easily, but we were not able to go much higher than that. The maximum speed the FX5700U3 memory reached 1.02 GHz - if we tried to go higher we'd be greeted by artifacts like in the Raiders of the Lost Arc... you remember the big artifacts that spit out poison tipped darts, gigantic rock bowling balls, and all that fun stuff? Same thing here. :-)

PCStats Test System Specs:
processor:

intel pentium 4 3.0c

clock speed:
15 x 200 mhz = 3.0 ghz
motherboards:

gigabyte 8knxp, i875p

videocard:

ati radeon 9800xt
ati radeon 9800 pro
ati radeon 9700 pro
asus radeon 9600xt
msi fx5950 ultra-td128
msi fx5900u-vtd256
msi fx5900xt-vtd128
gigabyte gv-nv57u128d
albatron geforcefx 5700 u3

memory:

2x 256mb corsair twinx 3200ll

hard drive:
40gb wd special ed
cdrom:
nec 52x cd-rom
powersupply:
vantec stealth 470w
software setup

windowsxp build 2600
intel inf 5.02.1012
catalyst 3.9
detonator 53.03

workstation benchmarks

3dmark2001se
codecreatures
aquamark
aquamark3
gun metal 2
x2 the threat
ut2003

aa test, af and aa+af test
3dmark2001se
x2 the threat
ut2003
By combining DirectX8 support with completely new graphics, it continues to provide good overall system benchmarks. 3DMark2001SE has been created in cooperation with the major 3D accelerator and processor manufacturers to provide a reliable set of diagnostic tools. The suite demonstrates 3D gaming performance by using real-world gaming technology to test a system's true performance abilities. Tests include: DirectX8 Vertex Shaders, Pixel Shaders and Point Sprites, DOT3 and Environment Mapped Bump Mapping, support for Full Scene Anti-aliasing and Texture Compression and two game tests using Ipion real-time physics.
Higher numbers denote better performance.
3DMark2001 Benchmark Results
Video Card
3DMarks
Ranking
ATi Radeon 9800XT
19073
ATi Radeon 9800 Pro
18762

ATi Radeon 9700 Pro

17430
Asus Radeon A9600XT
13604
MSI FX5950 Ultra-TD128
17582
MSI FX5900U-VTD256 Ultra
17274
Gigabyte GV-NV57U128D
15165
Albatron GeForceFX 5700U3
15198
Albatron GeForceFX 5700U3 (571/1020)
16450
It shouldn't be any surprise that the Albatron GeForceFX 5700U3 performs the same as the Gigabyte GeForceFX 5700 Ultra. Overclocking boosts the score a bit.