Albatron GeForce FX5700U3 GDDR3 Videocard Review
---
The GeForceFX 5700 Ultra is already a pretty decent mainstream videocard, but that hasn't stopped nVIDIA from trying to sweeten the deal by including GDDR3 to the mix. GDDR3 (Graphics Double Data Rate3) is a new type of DDR memory, one which has been specifically developed for use with graphics card. As PCstats tests out the Albatron GeForceFX 5700 Ultra GDD3 videocard, we'll take a closer look at GDDR3, and what it means to gamers and overclockers.
True to form, Albatron's FX5700U3 is based on the GeForceFX 5700 Ultra chipset, and comes packing 128MB of GDDR3 memory. Wearing its signature bright blue colour, the card supports the typical assortment of connectors including a TV-Output, DVI digital port and analog port as well.
Oddly enough, there was no DVI-to-analog converter included in package however (this is usually standard equipment). The FX5700U3's software package includes WinDVD/WinCreator, Duke Nukem MP and a five game demo CD.

Albatron GeForceFX 5700 Ultra GDDR3



Includes:

Users Manual, S-Video to S-Video cable, Composite to Composite cable, S-Video to Composite cable, Duke Nukem Manhattan Project, five game demo CD, Driver CD.
Surprise surprise, the cooler here is exactly like the Albatron GeForceFX 5700 Ultra PCstats tested in January... The FX5700U3 comes with higher density DRAM on the card, which is why there are no memory modules on the back. Since the silk screen is still there though, I suppose that leaves the option for a GDDR3 256MB GeForce FX5700U3 model....
If you plan to get a GeForceFX 5700 Ultra based videocard please note that it requires extra power via a molex power connector (located on the top right hand corner).
WiseFan II Cooling System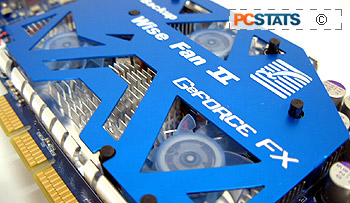 The idea behind the "WiseFan II" system is that two fans are always running, with one as a backup. If one fan fails, the third kicks in as a backup. With the second generation we find on the Albatron FX5700U3, the system now adapts to temperatures by starting the third fan up if GPU temperatures rise above 56 degrees Celsius. They also added two blue LED's that light up when the card is running. ;-)
The large aluminum heatsink not only cools the NV36 core, but four adjacent Samsung GDDR3 BGA DRAM modules. GDDR3 runs cooler than DDR2, which is why the FX5700U3 can get away with using a thick thermal pad between the heatsink and memory.
It should be noted that even with all three fans spinning, the Albatron GeForceFX FX5700U3 remained very quiet. Albatron quote a noise level of just 25dB, which is less than an 80mm Sunon 40 cfm case fan as one example.