CD Speed is a CD-ROM benchmark which can test the most important features of a CD-ROM drive. In this particular test we use a pressed CD-ROM with about 640MB of data as the test disk. Using a CDR or CDRW as the test disk may (or may not) impact the results slightly, so the pressed disk is the de facto standard.
CD Winbench 99 Benchmark Results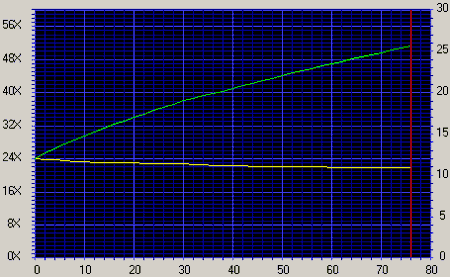 CD-R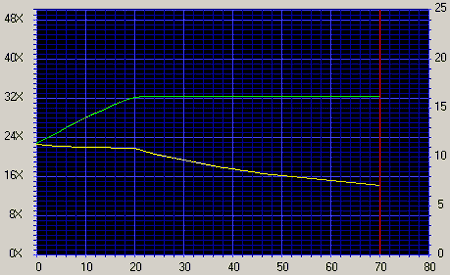 CD-RW
Nero CD Speed: CD-R, CD-RW Benchmark Results

Optical Drive
AOpen 52x32x52xs
Samsung SW-252B
MSI CR52A-A2
Plextor W4012TA
LG 32x10x40
Media
CD-R
CD-RW
CD-R
CD-RW
CD-R
CD-RW
CD-R
CD-RW
CD-R
CD-RW
Media Write Speed:
52x
32x
52x
24x
52x
24x
40x
12x
32x
12x
Avg Speed:
39.49x
30.86x
39.57x
18.72x
39.76x
24x
30.59x
12x
19.63x
10.01x
Start Speed:
23.97x
22.6x
23.62x
11.22x
23.82x
24x
20.01x
12x
16.01x
10.01x
End Speed:
51.21x
32.29x
52.14x
24.61x
52.25x
24x
40.05x
12x
20.02x
10.01x
Type
CAV
P-CAV
CAV
CAV
CAV
CLV
Z-CLV
CLV
Z-CLV
CLV
Performance of the AOpen CRW5232/ARR 52x32x52x CD-RW drive is very good, CD-R media hits just under 52x burning while the AOpen burner is able to burn just a tad faster than 32x on CD-RW media!
Good Performance!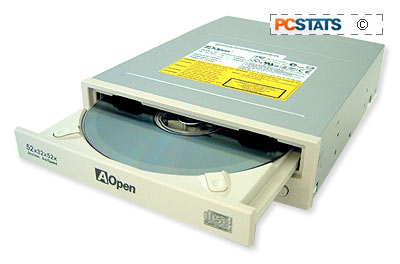 Can you imagine how you got by with computers before CD-RW's were readily available? I remember when I was in high school I had to carry ten to twenty floppy disks to school for the various classes I was taking. Not fun.
CD burners have definitely made my life easier and I'm sure I'm not the only one who loves this technology.
The AOpen CRW5232/ARR 52x32x52x CD-RW is one of the many CD burners on the market. In an attempt to differentiate themselves from the rest of the crowd, AOpen has included three interchangeable face plates which hopefully can suit your case be it beige, silver or black. Very neat and those of you with non white/beige cases.
At 52x CD-R, 32x CD-RW burning and 52x CD reading, the AOpen CRW5232/ARR is pretty much one of the fastest drives on the market (but not the only one sporting such speeds mind you). It supports all the popular writing methods; TAO (Track at Once), DAO (Disc at Once), SAO (Session at Once), Multisession, Packet Write and Mt. Rainier Write. Aopen are also nice enough to include a copy of Nero Express burning software.
Overall, the performance of the CRW5232/ARR drive overall was excellent, with the exception of audio tests. It seems the AOpen drive is a bit slower than the competition there but everywhere else the AOpen battles for top spot. This doesn't translate into any real world handicap however, but is more of a benchmarking footnote. The AOpen 52x32x52x CD-RW comes in first for burning CD-R and CD-RW media and is able to beat out some pretty impressive competition!
Overall the AOpen 52x32x52x CD-RW delivers on all fronts and with a retail price of $48 CDN ($35 US), you can't really beat its value!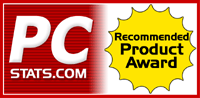 Find out about this and many other reviews by joining the Weekly PCstats.com Newsletter today!

Related Articles

Here are a few other articles that you might enjoy as well...

2.