AOpen 52x32x52x CRW5232/ARR CD-RW Review
---
I remember when I bought my first CD-RW drive many years ago... I was the envy of all my "geeky" friends because I could burn CDs. The times have changed significantly, and now these days CD-RW burners are considered standard equipment when it comes to computers. It's rare to find a new computer without one in fact. Data requirements have long since outgrown the old 1.44MB floppy drive, so if you need a universal way to backup data, you're going to want to put it on a CD burner that can handle all types of recordable optical media, fast.
In this review, PCstats is testing out the a 52x CD, 32x CD-RW, 52x CD-R burner made by AOpen, the "CRW5232/ARR". Maximum CD-R write speeds have hit their limit at the 52x burn speed, and this standard has been around for well over a year now. That shouldn't be much of a surprise though, after all, a 52x burner can fill a regular 650MB disc with information in just over 83 seconds, and a 700MB disc in just under 90 seconds!
Of course there's more to the AOpen 52x32x52x CD-RW than speedy burning; one innovative thing AOpen has done is include three coloured face plates with the drive! Those of you with aluminum or fancy black cases will like the option of choosing a matching silver or black face plates for your PC. And hey, if you're using a regular white box PC, the beige faceplate works just fine too.

AOpen 52x32x52x CD-RW

Includes:

Installation Guide, Audio Cable, Four Mounting Screws, Nero Express, Two additional Mounting plates, Speed Boost sheet.
The AOpen CRW5232/ARR 52x32x52x CD-RW is compatible with TAO (Track at Once), DAO (Disc at Once), SAO (Session at Once), Multisession, Packet Write and Mt. Rainier Write writing methods. The drive has 2MB of onboard cache, which isn't really necessary since the drive does support "Just Link" buffer under run error prevention technology.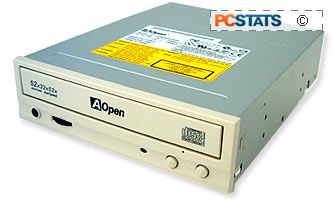 It's nice to see that the AOpen 52x32x52x CD-RW is a compact 5.25" drive, measuring in at just under 19cm long. If you have a cramped case, you will surely appreciate that.
The CRW5232/ARR drive can be mounted in both the horizontal and vertical positions, but if you stand the drive up on its side make sure you push out the CD retention clips first!
The rear of the CRW5232/ARR drive looks like a normal optical device except for the unnamed six pin header on the very left.
After that starting from the left to right we have the two pin digital audio output, four pin analog audio output, Master/Slave/Cable Select jumper settings, IDE port and power connector.