If some or all of the other computers on your network use another version of Windows such as Windows 98 or 2000, click the 'additional drivers' button below and choose the relevant operating systems. Once you click 'ok' you will be prompted for the location of the printer drivers on your system.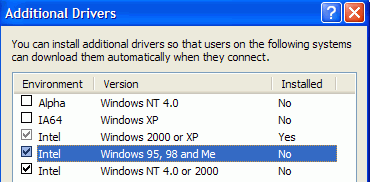 Essentially, this will allow the other computers to download the correct printer driver from your system when they first attempt to connect to the printer. This is one of those very handy time savers. Now click 'ok' to accept the changes, and your printer is now available over the network.
Note that if you have a software firewalls like Zonealarm, or XP's built in firewall software configured, it will block the sharing of your printer if they are installed on the computer the printer is attached to. The solution is to configure the firewall to allow printer related data to pass between your systems.
If you are using Zone Lab's Zonealarm, you will need to add the systems in your network to the program's 'trusted zone,' a set of addresses that the firewall will not block data from. To get that taken care of, note down the IP address of each of the systems in your network. The IP address can be found by going to 'start\run' and typing 'cmd' to open the command prompt, then typing 'ipconfig.'

Now open Zonealarm. Select the 'firewall' item on the left-hand menu, then choose the 'zones' tab.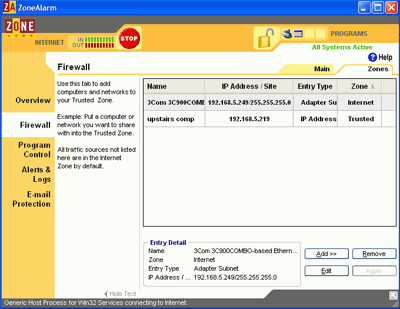 Choose 'add\IP address' then type the IP address of your first computer and give it a description you will remember. Hit Ok.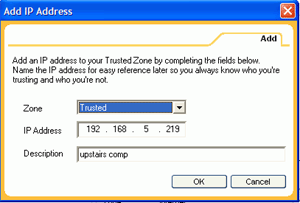 Repeat the procedure for the rest of your systems as well. Note that by default, this will give all the computers in your network access to any shared files on the printer system. If you are using Zonealarm to prevent people in your household from accessing files on your system, you may wish to consider using share permissions instead.