The XP firewall should not interfere with internet work communication and printer sharing unless it is mistakenly (or deliberately) activated on a network adaptor that connects to your internal network, not out to the Internet. If you are using the XP firewall to prevent other systems in your network from browsing your computer, you will need to deactivate it in order to share your printer successfully.
To deactivate the XP firewall go to 'start\control panel\network and Internet connections\network connections.' Find the local area connection that has the firewall enabled, right click it and select 'properties.'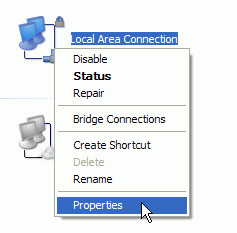 Choose the 'advanced' tab, then clear the 'internet connection firewall' checkbox. Hit Ok. Next we'll have to set up other computers to access the printer. In order for the other computers on your network to be able to print, you must first make them aware of the printer. To do this, open up the Windows XP systems by going to 'start\control panel\printers and other hardware\add a printer.'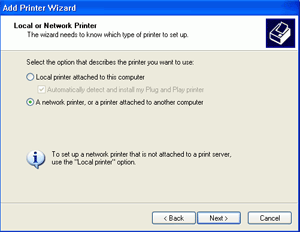 Click 'next' then highlight the 'a network printer or printer attached to another computer' option. Hit 'next' again. Choose 'browse for a printer' and hit 'ok.'
Expand the system connected to the printer, highlight the printer and click 'ok.' And that takes care of that section. If you are using a system other than WindowsXP, take heart, we're just about to cover what you will need to do on Windows 98/ME systems.
First go to 'start\settings\printers\add printer,' then choose the 'network printer' option. Use the 'browse' option to find the printer as we've just shown above.
'Windows 2000 systems handle printers very much like Windows XP does. Go to 'start\settings\printers' and choose 'add printer' and choose to add a network printer. Browse for the location as above and follow the same procedure.'