Nero's CD Speed burn tests a DVD+RW rated to 2.4-4x. The disc was burned files of about 4.7GB in size. This test is done by simply placing blank recording media into the burner and running CD Speed the software will detect if it is DVD-RAM, DVD-/+R or DVD-/+RW media and run the appropriate tests.
Nero CD Speed: DVD+RW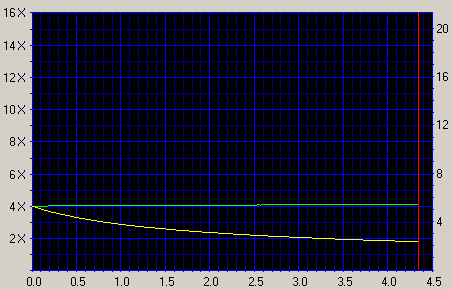 DVD+RW
Nero CD Speed: DVD+RW Benchmark Results

Optical Drive

Gigabyte GO-W0808A

LG GSA-4082B

Media
DVD+RW
DVD-RAM
DVD+RW
Media Write Speed:
4x
3x
4x
Avg Speed:
4.02
3.01
4x
Start Speed:
3.96
3.01
4x
End Speed:
4.05
3.01
4x
Type
CLV
CLV
CLV
The Gigabyte GO-W0808A is not compatible with DVD-RAM media which is why we ran only the DVD+RW tests. Here, the drive performs very well indeed!
A nice compact DVD-Burner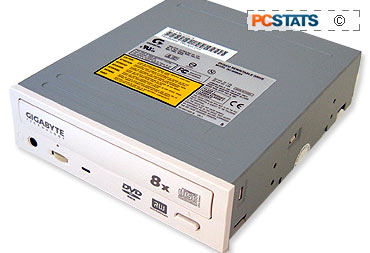 If you're looking for a mass storage device, DVD burners offer up incredible flexibility for the price. Most DVD-ROM's out there can read recordable DVD media, but it is important to be able to record or erase such discs on your own PC. After all, which would you rather carry; three fully loaded DVD discs or twenty-one CD's?

Right now the competition in the DVD burner market is still fairly small. It is picking up pace as consumers begin swapping out their old CD-R/RW drives with DVD-R/RW units. From what we have seen in the tests here, the Gigabyte GO-W0808A is a good reliable drive, retailing for about $160CDN. We didn't experience any DVD readability errors during the course of our tests, and with the quick installation guide, both new and experienced users should be able to install and operate the drive without much hassle. The Sonic MyDVD software is very user friendly and easy to use, even though I tend to prefer using Nero myself.

During testing we found the GO-W0808A to be a very well behaved drive, it didn't generate any heat and was one of the quietest drives we've tested as well. Optical drive benchmarks are never the most exciting things, but the results do indicate that the GO-W0808A handled the job per its advertised specs. As with a lot of other DVD-ROM/RW's, CPU utilization was a bit on the high side in some cases. Still, it's a minor point, and one unlikely to affect users of current-day processors. Bottom line - if you need to store a lot of data, get yourself a DVD burner like Gigabyte's GO-W0808A.

Find out about this and many other reviews by joining the Weekly PCstats.com Newsletter today!

Related Articles

Here are a few other articles that you might enjoy as well...

2.