Gigabyte GO-W0808A DVD Burner Review
---
The appeal of storing data on DVD discs is pretty clear; 4.7GB of storage space. As games, and even programs gradually shift from muli-CDROM sets to single DVD discs, there has never been a better time to consider a DVD-ROM for your PC.... or better yet, a DVD burner! I can think of more than a few computer geeks who would salivate at the thought of being able to store that much data onto one CD-sized disc. ;-)
Business has long embraced the CD-R/RW as a means of backing up information, or sending large files from one location to another. With the advent of recordable DVD media, system administrators can cost effectively back up data onto one DVD, rather than spanning a backup over 10 or 20 CD's!
In this review, PCstats is looking at the new Gigabyte GO-W0808A DVD burner. The Gigabyte GO-W0808A supports 8x DVD+/-R and 4x DVD+/-RW writing methods, as well as burning of CD-R's at 40x, and CD-RW's at 24x. The drive is able to read all DVD discs at 8x, CD/CD-R's at 40x, and CD-RW discs at 32x. All in all, this makes the Gigabyte GO-W0808A a very versatile optical drive with a sticker price of approximately $160CDN.

Gigabyte GO-W0808A

Includes:

Quick Installation Guide, Sonic MyDVD Software, Power DVD, Analog Audio Cable, Drive Screws
The GO-W0808A is a rather plain looking optical drive, but personally, I like the design since it is nice and clean. I'm happy to see that the front bezel is a light beige; the last thing I want is to buy a drive that looks like it's ten years old already. ;-)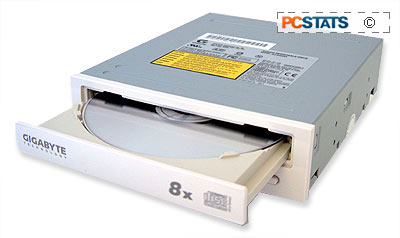 The Gigabyte GO-W0808A measures about 17cm deep, so it's on the compact side of CDROMs which could be good news for some SFF owners. At the rear of the drive we find an unknown six pin connector, the two pin digital audio port, four pin analog audio port, Master/Slave/Cable Select jumper headers, IDE drive connector and molex power connector.
The Gigabyte GO-W0808A drive supports TAO (Track at Once), DAO (Disc at Once), SAO (Session at Once), Multisession, Variable Packet Writing, Fixed packet writing and Multi-Track Reservation writing methods.
Since the drive tray has those little clips to keep a CD from falling out of the recess, the Gigabyte GO-W0808A can be mounted both in the horizontal and vertical positions. Tray eject times are also quite quick which is always good to see. In our tests, the drive would spit out the tray within a few seconds of the eject button being pressed. Acoustically, during testing the GO-W0808A was very quiet. I could hear a slight hum from the spinning media, but at maximum transfer speeds the drive was barely audible.