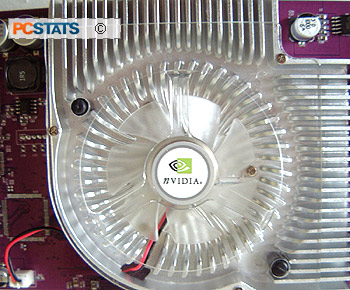 At first we were surprised to discover that while benchmarking, the AOpen GeForceFX 5900XT would consistently score higher than the reference GeForceFX 5900XT. Looking at the clock speeds we noticed that AOpen have overclocked the FX 5900XT 30 MHz by default (on the core). This basically guarantees that AOpen has one of the fastest GeForceFX 5900XT videocards on the block!
Of course, just because the card is already overclocked does not mean that we're going to skip our own overclocking tests. ;-)
Starting at 420 MHz core, I slowly began to raise the clock speed to GeForceFX 5900 Ultra speeds (450 MHz), then FX 5950 Ultra core speeds. Unfortunately, we weren't quite able to hit that mark as the card would start to pause at speeds higher than 466 MHz.
Next in line was the memory, which from 700 MHz was increased to break the 800 MHz barrier! In the end we were able to get the memory up to a very respectable 845 MHz, which is very good for any stock GeForceFX 5900XT videocard!
Unlike some of the other GeForceFX videocards we've played with in the past, the core and memory on the AOpen GeForceFX 5900XT worked well together when overclocked, and we were able to complete a full set of benchmarks with the core running at 466 MHz, and memory at 845 MHz.

PCStats Test System Specs:
processor:

intel pentium 4 3.0c

clock speed:
15 x 200 mhz = 3.0 ghz
motherboards:

gigabyte 8knxp, i875p

videocard:

ati radeon 9800xt
ati radeon 9800 pro
ati radeon 9700 pro
asus radeon 9600xt
msi fx5950 ultra-td128
msi fx5900u-vtd256
msi fx5900xt-vtd128
aopen geforcefx 5900xt

memory:

2x 256mb corsair twinx 3200ll

hard drive:
40gb wd special ed
cdrom:
nec 52x cd-rom
powersupply:
vantec stealth 470w
software setup

windowsxp build 2600
intel inf 5.02.1012
catalyst 3.9
detonator 53.03

workstation benchmarks

3dmark2001se
codecreatures
aquamark
aquamark3
gun metal 2
x2 the threat
ut2003

aa test, af and aa+af test
3dmark2001se
x2 the threat
ut2003
By combining DirectX8 support with completely new graphics, it continues to provide good overall system benchmarks. 3DMark2001SE has been created in cooperation with the major 3D accelerator and processor manufacturers to provide a reliable set of diagnostic tools. The suite demonstrates 3D gaming performance by using real-world gaming technology to test a system's true performance abilities. Tests include: DirectX8 Vertex Shaders, Pixel Shaders and Point Sprites, DOT3 and Environment Mapped Bump Mapping, support for Full Scene Anti-aliasing and Texture Compression and two game tests using Ipion real-time physics.
Higher numbers denote better performance.
3DMark2001 Benchmark Results
Video Card
3DMarks
Ranking
ATi Radeon 9800XT
19073
ATi Radeon 9800 Pro
18762

ATi Radeon 9700 Pro

17430
Asus Radeon A9600XT
13604
MSI FX5950 Ultra-TD128
17582
MSI FX5900U-VTD256 Ultra
17274
MSI FX5900XT-VTD128
16324
AOpen GeForceFX 5900XT
16705
AOpen GeForceFX 5900XT (466/845)
17404
Even at stock speeds, the AOpen GeForceFX 5900XT is faster than the MSI GeForceFX 5900XT videocard. When overclocked, the card even reaches FX 5900 Ultra levels!