XGI Volari V8 Reference Card Review
---
This article marks a rare occurrence in the world of computer hardware reviews. PCstats is going to take a look at a video card that is not based on ATI or Nvidia graphics technology. To be precise, we are going to test XGI's Volari V8. This entry-to-mid-level videocard is intended to compete with the likes of ATI's 9600SE and Nvidia's FX5700LX, offering decent 3D performance at an equally decent price.
It's quite amazing to realize the extent to which Nvidia and ATI dominate the mainstream computer graphics market. Easily 95% of video cards reviewed over the past four years are using technology from one of these two giants. Since the death of 3DFX, only a few blips from Matrox, Savage and SIS have registered on our radar. Now XGI Technology has spawned itself from the ashes of SIS's graphics division and launched into the competition for the 3D graphics throne.
Most of the attention that XGI has garnered in recent months has been because of its flagship product, the Volari Duo V8 Ultra card. This high-end card combines a pair of twin Volari V8 Ultra GPUs with 256MB of memory and a unique method of coordinating the two chips. Its recent release was met with mixed reviews, many citing driver and image quality related concerns.
The XGI V8 reference card that has made its way into the PCstats Labs, uses a single, less aggressively timed V8 GPU and is intended to be a low-to-mainstream 3D gaming product. Its competition would be from the likes of ATI's Radeon 9600SE and Nvidia's FX5700LE videocards.

XGI Volari V8 Videocard



Includes:

Users Manual, drivers
Our Volari V8 review card came equipped with 128MB of Hynix DDR memory clocked at 300Mhz. The V8 GPU was also clocked at 300Mhz for a nice symmetrical 300/300 starting point.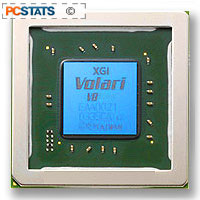 As for the specs of the chip itself, the Volari V8 uses eight pixel pipelines with two vertex and four pixel shaders, all fully DirectX 9 compatible. It is capable of 2X or 4X FSAA (Full Scene Anti-Aliasing) and anisotropic filtering up to 4X. The V8 uses an 128-bit memory interface and can support up to 256MB of DDR or DDR 2 memory.
The V8 supports dual monitors, and the reference card came equipped with a DVI connector for digital flat panels. An adaptor could be attached to drive dual analog monitors. The integrated TV-out is capable of displaying in HDTV resolutions.
The XGI V8 reference card is a fairly standard mid-sized video card, with a black PCB. No additional power connectors are required, and it will not take up much space in your case, which makes a refreshing change from the current high-end models that absorb two full PCI slots with their bulky cooling systems.
The TSOP-II memory is not equipped with heatsinks, which is not surprising given the target market. The GPU is cooled by a fairly unimposing circular aluminum heatsink/fan combination. One of the first things we noticed about the card was how quiet the cooling solution was. This is one card that would not be out of place in a low-noise PC. The memory and heatsink stayed fairly cool during benchmarking too. The rear of the card (also bare) got quite warm during the same time period.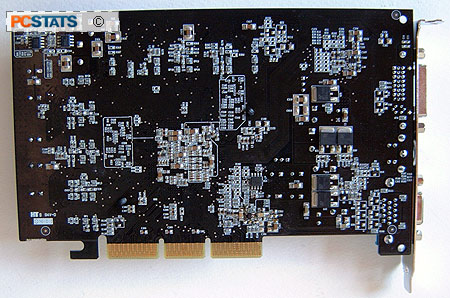 Aside from the VGA port, an S-Video connection for TV-out is provided alongside a DVI connector for driving digital monitors. For a detailed overview of XGI's new technologies and how they are implemented, see our Volari preview article here.