Sony 40X CD-Rom Review
---
Everyone still needs a CD-ROM. We did, and recently got a Sony 40X. but with prices for most CD-Rom drives hovering close to the $50 mark how does anyone decide what to get? Is there really that much of a difference between a 24X and 40X CD-Rom, and is that difference even significant? We took a cross section of drives and compared them to our new Sony. As always some results were expected, and others were closer then we would have thought between a 24X and a 40X...

Sony CDU4011-10 40X CD-ROM DRIVE

Standard features include:
Headphones jack
volume Wheel
Play/skip button
Stop/eject button
Drive activity light
Cost $62 CDN
Drivers:
I hate CD-Rom drivers. On several occasions I've gotten that Win95 CD-Rom boot disc from an OEM, put it into my computer after a nice cleansing format c:\ and..... nothing. Blank discs. Try loading Win95 with no CD-Rom drivers on hand to load up the CD-Rom. With that said, the last CD-Rom I had was a 24X and it came with drivers.
For our review of the Sony CDU4011-10 we were installing Win2k Server on a brand new 20 Gig'er. In went the CD-Rom drive, and the computer was switched on as I fumbled around looking for a generic floppy full of CD-Rom drivers. With the BIOS already configured the boot sequence began. The four greatest words I have ever have seen popped up on the screen: "Boot from ATAPI CD-ROM." So in went the Win2k disc, and on with installation. There is nothing better then a bootable CD-Rom - nothing!
Is it speedy, or not..
The Sony spins at a higher RPM to give it the 40X ability, and as expected the sound it generates is a bit higher then any of the other comparison CD-Roms. It's also the heaviest of the bunch - to dampen vibration and cavitation no doubt. The CDU4011-10 has all the standard connectors on the backside (IDE, Power, Analog Audio, Digital Audio, and CS - SL - MA jumper.
When comparing CD-ROM drives there isn't really much to compare unless a utility of some sort is used. We used Maxa CDBench Pro to check out just how well the Sony CDU4011-10 compared with a good cross section of other drives.
| | | | |
| --- | --- | --- | --- |
| | 40X Sony | 24X CyberDrive | 4X Torisan |
|   | CDU4011-10 | CD240D | CDR-S1G |
| Cache Size | 1.27mb | 1.27mb | 1.27mb |
| Transfer Rate | 1.97mb/s | 1.71mb/s | 0.34mb/s |
| Read Ahead Size | 1.05mb | 1.05mb | 1.05mb |
| CPU Load | 69% | 75% | 91% |
| Avg. Access Time | 0.085sec | 0.136sec | 0.356 |
| Speed Factor | 13-speed | 11-speed | 2-speed |
| ROMark | 7.5 | 5.0 | 1.6 |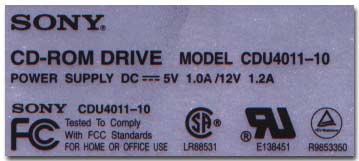 The differences between the 24X and 40X were slight, except for access time. The Sony scored very high with an Avg. 85ms access time and transfer rate of almost 2mb/s which gave it a final ROMark of 7.5 .
All around this is a great 40X CD-ROM for a reasonable price. Granted you will pay more for the Sony logo (about $5-10), but that's down to personal preferences. It's definitely a good drive to have, very quite when the disc is spinning up, and ejects within 5 seconds, where some drives take a lot longer...