Step 3: What if Ad-Aware and Spybot don't fix your problem?
If your computer is behaving oddly, or Internet explorer is being submerged in a sea of obscene popups, but neither anti-spyware program seems to help, it's likely you have caught one of the more malevolent and persistent strains of spyware or browser hijacker. Fortunately there are several more procedures you can use to clean your PC if these two programs are ineffective.
First, scan your system with an updated anti-virus package to make sure that Trojan horse viruses are not reinstalling malware onto your system. If you do not have access to one of these programs, you can use a free, web-based AV service like Housecall from Trend Micro.
Next, run CWShredder. This specialized tool finds and removes the 'Cool Web Search' browser hijacker, a particularly persistent web nasty.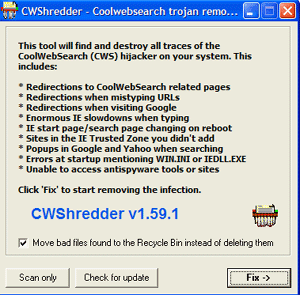 Finally, go to 'start/control panel' and open 'add or remove programs.' Remove any unfamiliar items here.... from time to time, programs will be installed on your PC which are simply spyware launching platforms. It is difficult to type out a concise list of program names to watch out for, but the general rule of thumb is to uninstall any program that you don't recognize, or have the slightest clue as to what it does. Watch out for Windows and Internet Explorer patches though, they may have odd names, but are important for your PC if it is to be kept up to date.
If any of the above procedures found and removed anything, reboot to see if your troubles have ended.
If not, reboot your PC into safe mode, by pressing F8 repeatedly at startup and choosing the 'safe mode' option. You will need to make sure that your anti-spyware and anti-virus software programs are updated before taking this step.
Now run Ad-Aware, Spybot and your Anti Virus software again. Found anything new? Remove it and reboot normally.