If you are still having issues after all of this, try running Autoruns. This nifty little program brings up a display of all the locations in the registry and file system where programs can be set to start automatically on boot up. Look though here for anything suspicious.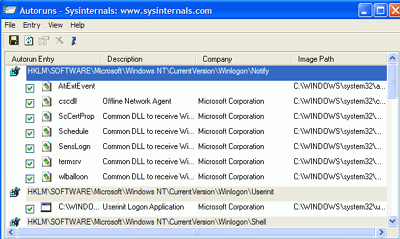 Suspicious files can be anything you don't recognize. In this case, experimenting by unchecking items will do no harm to your system, since these are only automatic startup settings, not vital system files.
The next utility we look will most certainly harm vital system files if used incorrectly. Hijack this is a utility designed to counter browser-hijacking programs. It displays several areas of the file system and registry related to the behaviour of Internet Explorer.
It's intended for advanced users, and simply displays the contents of these locations and allows users to delete entries they do not think should be there. It makes no attempt to distinguish vital system files from entries placed by browser hijackers and malware. For this reason, the best way to use Hijack This is to save a log file of the scan results and post them onto one of many helpful forums along with a description of your problem.
To do this:Run Hijack This and click 'scan.'
Scan through the results for any obviously suspicious entries. Now use the 'save log' button to save the results to a text file.
If you've followed the directions above, chances are your PC is now free of its spyware problems. Continue on for a guide to protecting your PC from futurer infestation.