Crucial PC4200 DDR-2 Memory Review
---
While there are plenty of manufacturers that have DDR-2 RAM listed in their product sheets, only a few companies are actually delivering those memory DIMMs to consumers. Crucial.com is one such memory manufacturer, and they are more than ready to rock and roll with their new series of DDR-2 RAM.... after all, Micron is the parent company of Crucial.
Considering the technological requirements that the latest Intel Pentium 4 processor places on the system, and very soon AMD too, retiring DDR RAM for DDR-2 was a very necessary move. The standard DDR-SDRAM modules you have in your PC right now simply cannot clock much higher than speeds of about 400MHz (PC3200) without drastically increased voltages which are unacceptable to JEDEC (the governing body for memory), or without raising memory timings to a point which would negate any performance gain due to the higher clock speed. For a look at memory bandwidth vs. latency timings, and the effect these factors have on computer performance, see PCstats article here.
For these reasons, and a few others covered in our introduction to DDR-2 article, we as consumers are going to be purchasing a lot of memory in the next little while. As you can imagine, the choices can be confusing with new technologies, and that is why today we are going to be testing out a pair of Crucial PC4200 DDR-2 DIMM's which have just rolled off the production line. Each module is 256MB in size, and the FBGA DRAM (the small back memory chips) are rated to run with 4-4-4 memory timings, at 200 MHz, while drawing just 1.8V.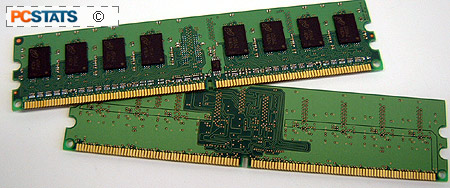 It is also worth mentioning that when these modules first arrived in our labs, JEDEC had just changed the nomenclature for this class from PC4300 to PC4200 DDR-2. So now, all PC4300 DDR-2 should be listed as PC4200 DDR-2 RAM.
One of the changes brought about with DDR-2 is the standardized adoption of FBGA DRAM modules, in place of the now retired TSOP-II package. The FBGA package is better for higher speed memory, but it is a little more fargile too. While DDR-2 doesn't really need any form of heatspreader, some manufacturers are bound to apply them. And a word of warning for everyone on that point, don't even think about removing the heatspreaders unless you're willing to kill the DIMM! The FBGA DRAMs connect with tiny little solder balls, and the flexing that happens when a heatspreader is removed can break those connections quite easily.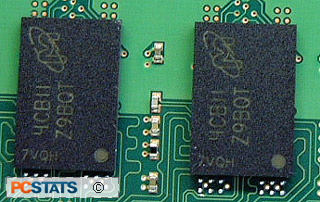 The label on each PC4200 DDR2 DRAM doesn't tell much about the memory, but if you go back to the manufacturers website, you can find quite a bit about the MT8HTF3264AG-53EB3 modules used on this Crucial DDR-2.
According to Micron, the DRAM is rated to run with memory timings of 4-4-4 at 1.8V - which is pretty conservative - but Crucial has always been like that. During testing, we found that the Crucial PC4200 DDR-2 memory had no problems running with more aggressive 3-3-3 memory timings, and without having to increase the voltage!
Of course what memory review would be complete without a section dedicated to overclocking? ;-) Currently if you want to run a system with DDR2, the only game in town is Intel i915p or i925x based systems.
For these tests, we plugged the Crucial DDR-2 PC4200 DIMM's into a Gigabyte GA-8ANXP-D i925X motherboard, and enabled the 2.66x memory multiplier. Next, we began to raise the FSB. Things were uneventful all the way up to 216 MHz, and anything higher than that would generate a nice blank screen at POST. I believe this was the case because the i925X test motherboard was hitting the Intel FSB lock.
It's only a matter of time before the Taiwanese manufacturers figure a way around it, and when they do, we'll update this review. Now, time for some DDR-2 benchmarks!