Crucial Ballistix PC2-5300 DDR2 1GB Memory Kit Review
---
I don't know about other companies, but when our mission-critical servers need memory we almost always buy it from Crucial. It's simple really; Crucial's memory is reliable, and if one of those ECC Registered DDR modules happens to fail, the service dept is there to make things right, quickly. Don't take our word for it though, check out their life time ResellerRating of 9.68!
Since Crucial's inception, the company has never catered towards the enthusiast market... Yet, now that Crucial has released the Ballistix line especially for enthusiasts, I suppose this means that the overclocker market has gone from niche to mainstream. After all, if every other manufacturer is hawking enthusiast calibre DDR memory with Micron DRAMs, it only makes sense for Crucial to try and capture some of this lucrative market for itself.
Crucial's marketing team came up with the name "Ballistix" for their high-end DDR and DDR-II enthusiast memory, and to be sure, the name sounds every bit as "cool" as TwinX/XMS, HyperX and Firestix!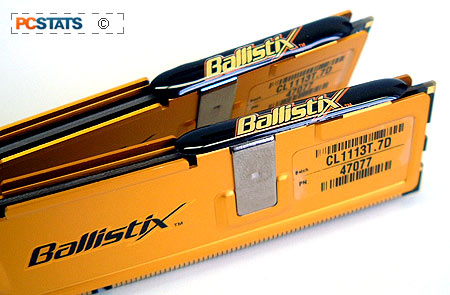 And so, without further delay, PCstats is testing out a pair of Crucial's brand spanking new Ballistix PC5300 DDR2 memory.
Each heatspreader encapsulated DDR2 module is 512MB each in size, and features sleek black PCB shielded by orange aluminum heatspreaders!
Included with each stick is a cool looking Ballistix sticker, and edge-of-the-RAM rubbery logo (aka a computer case badge), as well as the users manual which really does include some helpful information.
One of the changes brought about with DDR-2 is the standardized adoption of FBGA DRAM modules in place of the familiar TSOP-II DRAM package. The FBGA package is better for higher speed memory, but it is a little more fragile too...
While DDR-2 doesn't really need any form of heatspreader, manufacturers are bound to apply them for marketing and durability related reasons. A word of warning for everyone on this point, don't even think about removing the heatspreaders on the Crucial Ballistix module unless you're willing to (potentially) kill the DIMM!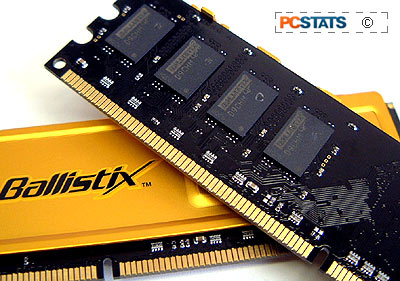 Since the FBGA DRAMs connect to the PCB with tiny little solder balls, the flexing that happens when a heatspreader is removed can break those connections quite easily. Case in point, the picture you are looking at here cost $314CDN to produce... the price of one dead stick of Ballistix RAM!