Doom 3 Review: The Legacy from ID Software Continues
---
The second half of 2004 will see two of the mostly hotly anticipated games in history dueling it out with each other for supremacy in the world of first-person shooters. Half-Life 2, of course is scheduled to come out anytime now, but the game that concerns us today is Doom 3, descendent of the game that still defines the first-person genre.
The original Doom was not the first 3D shooter to hit the market, but its astonishing graphics and game play quickly captivated gamers, opening up the market for the many, many similar games that followed. Many now-adults can remember with fondness the first time they saw Doom in action as a youngster.
ID Software is attempting to resurrect these feelings with Doom 3. Enthusiasts have been drooling at the screenshots for over a year, so ID has some tough work to meet up with the gaming community's expectations. Let's see how they do.
First Impressions
Like anyone else remotely interested in the first-person shooter genre, we've already seen many, many screenshots of Doom 3, so we figured we knew what to expect. As you already know if you've seen the trailers though, screenshots do not do the graphics justice. Played at the high or maximum detail levels, the detail and animation of the various nasties and the lighting effects throughout are incredible.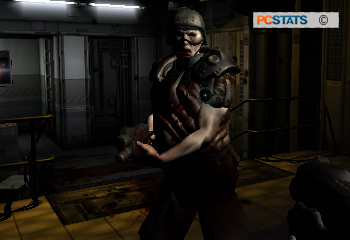 Doom 3 recasts you in the role of the nameless marine, holding the hordes of hell back by his lonesome. As the game opens, you are delivered to a scientific installation on Mars, ready to begin your tour of duty as just another member of the security forces. Of course, things quickly take a turn for the worse, then another and another.