When the AMD Athlon64 process was first released, the best chipset for the job was the VIA K8T800; it was faster and more feature rich than the competition from ALI or nVidia, and consequently it was adopted by most manufacturers from the get go. This time around, VIA has better competition from the nForce 250 GB and nVidia, but still manages to squeak ahead if only by a hair of performance.
The VIA K8T800 Pro chipset in its desktop form is compatible with both Socket 939 Athlon64 and Athlon64 FX processors, and thanks to the dual channel memory controller, has 6.4GB of bandwidth between the system memory and CPU.

With HyperTransport now moving at 1000 MHz both up and downstream, the CPU has a 8GB/s bandwidth connection with the other system devices. This means the I/O bottleneck is almost non-existant!
Between the K8T800 Pro Northbridge and VT8237 Southbridge, VIA has doubled the V-Link bandwidth (from 533MB/s for the K8T800) to a full 1GB. For those of you who use your PCs to transfer a lot of data through a network, it may be of interest to know that the onboard Gigabit NIC runs through its own high speed connection to the VT8237 Southbridge. Taking into consideration HyperTransport, this ensures the Gigabit NIC can't take up all the available bandwidth.
In order to cater towards the enthusiast market, VIA has implemented AGP/PCI locking within the K8T800 Pro chipset as well. This is probably the one feature most enthusiasts will find helps them with their overclocking... so long as it works reliably. This board didn't appear to have functioning AGP/PCI locks.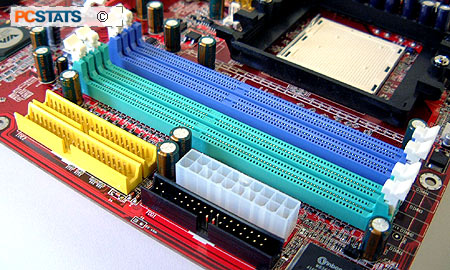 Overclocking the MSI K8T Neo2
AMD processors generate superb results when overclocked by a seasoned enthusiast with the proper hardware, so we had some high hopes as to what the MSI K8T Neo2-FIR motherboard would allow us to accomplish with an AthlonXP 3800+ CPU.
To begin, the CPU clock multiplier was lowered to 8x - this way the CPU would not become the limiting factor when pushing the motherboard. Starting from 200 MHz we slowly raised the clock speed of the motherboard a few MHz at a time. At 207 MHz the memory started to flake out, so its voltage was increased to 2.85V to stabilize the system.
Our overclocking tests on the K8T Neo2-FIR motherboard hit another snag at 215 MHz. This time we actually had to lower the memory divider from 1:1 to 5:4 in order to keep the system running. After passing the 220 MHz mark everything started to max out, although we were not able to pin point a reason to the stability problems. I believe the problems may rest with VIA's non functioning AGP/PCI locks, we experienced similar problems with the Asus A8V Deluxe.