In the DRAM configuration section we have all the usual memory tweaks we'd expect from a performance motherboard: CAS Latency, Burst Length and of course Bank interleaving options are all present here.
Here in the CoreCell Menu we have a whole lot of options, enough to keep the hardcore tweaker happy. You can turn AMD's Cool 'n' Quiet feature on or off, HyperThreading can be adjusted to 1000MHz through to 200MHz.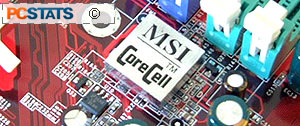 Dynamic overclocking is disabled by default, but I can't really see any experienced overclocker using those options. Users also get access to lower multipliers, and its FSB can be adjusted from 200-280 MHz in 1 MHz increments. The maximum HyperTransport voltage is 1.38V, DDR 2.85V, CPU 1.65V and AGP 1.85V.

PCStats Test System Specs:
Processor:

AMD Athlon64 3800+

Clock Speed:

12 x 200 MHz = 2.4 GHz
11 x 220 MHz = 2.42 GHz

Motherboards:

Gigabyte K8NSNXP-939 (NF3-250Gb)
Asus A8V (K8T800 Pro)
MSI K8T Neo2-FIR (K8T800

Videocard:

ATi Radeon 9800XT

Memory:

2x 512MB Corsair TwinX 3200 XL

Hard Drive:
80GB Seagate 7200.7 SATA HDD
CDROM:
NEC 52x CD-ROM
PowerSupply:
Vantec 400B iON
Software Setup

WindowsXP Build 2600
VIA 4in1 4.51
Forceware 4.34
Catalyst 4.6

Workstation Benchmarks

SYSMark 2004
Business Winstone 2002
Content Creation 2002
Super Pi
SiSoft Sandra 2004
PCMark2002
PCMark04
3DMark2001SE
AquaMark3
Comanche 4
X2: The Threat
UT2003