PowerColor Radeon 9250 Videocard Review
---
Video cards and cars are very much alike in a lot of ways. There are fast videocards which crank out pixels faster than greased lightning, and then there are affordable graphics adaptors that the average consumer can use to play games at more reasonable speeds. Sure, we'd all like to have the equivalent of a Porsche, but sometimes all we really need to get the job done is a practical Ford. It may not be as fast, or fancy, but it will get you from point A to point B.
If you think about it, most of us doing the 9-5 office shuffle really only scan through email, or write up a few Word documents each day. For those tasks, a PC with an nVidia GeForce 6800 Ultra under the hood is just overkill, not to mention excessively expensive for rendering pages of text. For environments like this, the workhorse of the videocard world needs no RAMsinks, no active cooling, and has no blinking LED lights. All it needs to do is work, handle the occasional light bit of 3D rendering, and mesh up with analog or digital LCD monitors.
We usually focus on higher end parts here at PCStats.com, but in ths review we'll be evaluating the little PowerColor ATI Radeon 9250 videocard. It's Radeon 9250 GPU makes it a low end videocard by most standards, but the card should provide computers tasked with office loads plenty of great 2D performance for the long haul.
The Powercolor Radeon 9250 retails for just $62 CDN ($47 US), and does not come with much else other than a driver CD, CyberLink DVD software suite, a S-Video-to-composite converter, composite-to-composite cable and a half height mounting bracket great. For $47USD, that's not bad!

PowerColor Radeon 9250



Includes:

Users Manual, Driver CD, CyberLink CD, S-Video to Composite cable, Composite to Composite cable, Half Height Mounting Bracket
I'm sure you've noticed the small size of the PowerColor Radeon 9250 compared to most of the graphics cards to pass through out test labs. Yet, its small size gives it several advantages in typical office environments. Being half height, the Powercolor Radeon 9250 can fit into smaller non standard cases (SFF PCs, Book-Type cases, etc.) or it can even be used as the primary videocard in servers as small as a 2U.
ATI's Radeon 9250 GPU will by default support dual monitors, but because of the relatively small amount of PCB real estate, PowerColor have been forced to add the analog monitor connector via a small 15-pin ribbon cable.
It looks a bit odd when you first look at the videocard, but you'll be happy to hear that it does not degrade picture quality any. If you want to use a second analog monitor don't forget to buy a DVI to analog converter at the computer store since one is not included with PowerColor's package.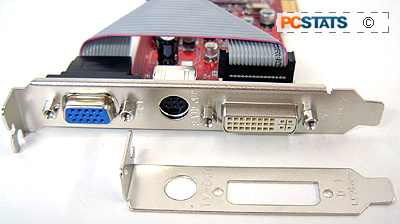 With no fan on the GPU, the PowerColor Radeon 9250 is absolutely silent during operation. Interestingly, in spite the low clock speed of the memory, the cards DRAM does get somewhat warn during operation. This underpins the point that even though there is no active cooling on the PowerColor Radeon 9250, the case it is housed in should have good airflow.
We were pleased to also find that the PowerColor card includes an S-Video out feature on it. In a brief visual rundown, the 2D image quality presented by this PowerColor card was as it should be (tested on an LG Flatron 995FT Plus) even at resolutions up to 1600x1200. This makes the card ideal for office situations; it's cheap and has great 2D image quality. Those of you who use LCD monitors can hook them up directly to the DVI port, assuming of course that your LCD monitor supports this connection.