Running system restore in safe mode to recover a non-booting system
If you have system restore enabled on your system, you may still run into problems with software or bad drivers. If your Windows XP installation will not boot normally, how do you get to your restore points?
You can go to the most recent one by using the 'last known good configuration (your most recent settings that worked)' option in the Windows advanced options menu, but if that doesn't fix your problem, how do you get at earlier restore points? I think you can guess the answer... Safe Mode!
The system restore utility can be accessed in safe mode and used to restore any previous restore point. Simply restart XP in safe mode and go to 'start\all programs \ accessories \ system tools \ system restore' then follow the instructions to restore your system to the point of your choice.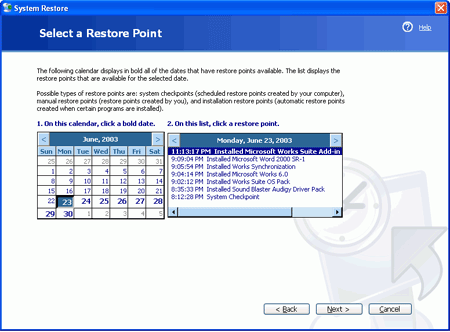 Note that you cannot create restore points in safe mode, only load them.
Troubleshooting software problems
Have you ever installed new software and found that your PC now refuses to even boot? It's certainly happened to us. With the range of possible hardware and software configurations for PCs, it's practically impossible for software makers to fully test their applications in all circumstances. Faulty drivers or software can cause a whole world of problems on a Windows XP system. Constant crashing or failure to even boot are two of the most common symptoms.
Fortunately, Windows XP comes with an excellent system restore utility which, by default, creates a 'restore point' every time you install new drivers or software. If they trash your system, you can roll it back to the pre-installation state. Of course, it's quite possible to disable system restore, and it doesn't always work quite the way it's supposed to. Where does this leave you?
Again fortunately, Windows safe mode gives you a chance to put things right by disabling or removing the offending software.