First things first. If your PC will not boot normally into Windows XP but will boot in safe mode, you have a software problem. The cause could be either a driver used by one of your hardware devices or a program or service you have installed (or one that has been installed unbeknownst to you) that is running on Windows startup.
To determine which it is, examine the way your system fails to boot. If it crashes during the loading process before the Windows interface appears, or gives you a BSOD (Blue Screen Of Death), it's likely you have a driver issue.
If the Windows interface appears and then XP crashes or slows to an unusable crawl, it's likely that your problem is with software that Windows is attempting to load on startup.
Once you have determined the likely cause of your booting problems, read and follow the appropriate sections on the next few pages of this PCstats Guide.
Stopping autorun programs that are causing crashes and boot failure
If you've used a Windows-based PC for any length of time, it's likely this scenario has happened to you. Windows will load to a certain point, then crash, or will load completely then either freeze or slow down so much that it is effectively unusable. The problem in either circumstance is likely to be with a program that has been set to run automatically upon Windows startup.
Whether this program is deliberately malicious or is merely incorrectly installed or conflicting with other software and hardware on your system, it is causing a crash every time you boot and there is no way to disable it. This is where safe mode comes in.
As we stated previously, booting your Windows XP system into safe mode will not load any programs automatically, so if you can successfully load safe mode, you know that a program or a software device driver is causing your problem. If the freezing or crashing occurs after the Windows GUI has loaded, it's a pretty safe bet that a program that has been set to load automatically is causing the problem.
Booting into safe mode will allow you to selectively disable autorun programs, allowing you to self-troubleshoot the cause of your computer issues.
To do this:
If possible, download Sysinternal's 'autoruns' program from here and copy the executable file onto your system. It will easily fit onto a floppy disk, so you can download it on another system and transport it over. The autoruns program is an excellent little utility that will show you the location of all software and services that are starting each time you boot windows and allow you to disable them at will.
Start XP in safe mode as described above.
Start autoruns by double clicking the executable file.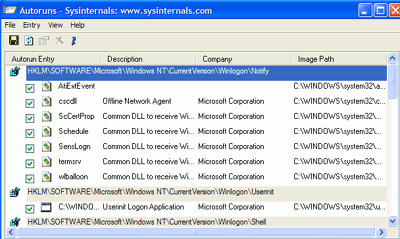 If you think you know the program that is causing your problem, locate and disable it by unchecking the box beside it. Reboot Windows XP in normal mode and see if your problems are resolved. If you are not sure, experiment by selectively disabling items from the list and rebooting in normal mode.