Beginners Guides: Crash Recovery - Dealing with the Blue Screen Of Death
---
A BSOD will strike every Windows PC at least once. PCSTATS lays out the ground rules to fixing the problems that can cause a Blue Screen of Death. Or, you can just reinstall your ENTIRE PC... it's your choice! - Version 2.2.0
If you've ever used Windows, chances are you've experienced the lovely shade of blue associated with the famous Windows Stop Error or 'Blue Screen of Death.' This frequent, although less so in newer operating systems, error occurs whenever Windows senses a software, hardware or driver error which will not allow it to continue operating properly. In other words, it happens all the time, for all sorts of reasons.
Often, if you're lucky, the problem will resolve itself with a simple reboot and you may never have to worry about it again. More typically though, the BSOD is a harbinger of trouble and you may find yourself faced with another and another until you throw up your hands... but all is not lost.
In this article PCSTATS.com will walk you through the BSOD in many of its most familiar incarnations. We will not be exploring and cataloguing what each BSOD means, but rather providing a set of tools for troubleshooting that you can use to get around any Blue Screen Of Death, or constant crash issue. Just another step in PCSTATS' never-ending quest to save your hard earned cash from going to the computer repair shop.
What is a Blue Screen of Death?
The Blue Screen of Death, or more properly the 'Windows stop message' occurs when Windows detects a problem or error from which it cannot recover. The operating system halts and diagnostic information is displayed on a blue screen. In newer versions of the operating system, the contents of the PC's memory are dumped to a file for later analysis.
All Windows XP stop errors are numbered according to the circumstances that caused the error, which assists enormously in troubleshooting them.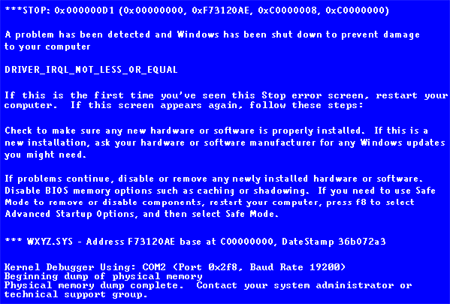 Let's take a moment to look at a BSOD in its natural environment, careful now, we don't want to startle it... Note the eye catching shade of blue intended to warn us of trouble, the detailed list of hexadecimal numbers, and relatively unhelpful 'tip.' This is the BSOD in all its glory, so be very afraid if you ever come face to face with this hideous creature!