Doom 3 is the most advanced OpenGL game to date, it takes advantage of the latest videocard technology and pushes the processing power of the CPU to its absolute limits. At its highest setting Ultra quality, texture sizes pass the 500MB mark which means even tomorrows videocards will have a hard time running everything. The frame rates in the game itself are locked at 60 fps so anything above that point is wasted. Each test is run three times and with the third run being recorded.
Doom 3 - LQ 640x480
Motherboard
FPS
Ranking

Gigabyte GA-8TRS350MT (RS350, 200/400, Onboard Video)

12.2
Doom 3 stresses even the fastest of systems, so this framerate of 12.2 should be no big surprise. But just to underline it, Doom 3 and ATIs Radeon 9200-class integrated video go together about as well as dialup and this site. ;-)
Maximum Motherboard Overclock Test
After some discussions for and against removing overclocking benchmarks from PCstats reviews altogether, we have decided to change how we do things. From now on, PCstats reviews will simply list the maximum overclocked speed a motherboard is able to achieve here, rather than for each benchmark.
Since overclocking can be a very subjective skill, it just makes more sense to keep our benchmarks focused on the stock performance of system components. Plus, by listing the maximum overclocked speeds of various motherboards here, you have a better idea of which manufacturer really does produce the best goods for enthusiasts! Here's a brief list of Intel motherboards and their maximum overclocked speeds (Intel Pentium 4 3.0C test processor) as compared to the Gigabyte GA-8TRS350MT motherboard.
Maximum Overclocked Speeds - PCstats Results

Intel Motherboard Results

Chipset

FSB

Ranking

Epox 4PDA2+
i865PE
235 MHz
Gigabyte GA-8IPE1000 Pro 2
i865PE
230 MHz
Albatron PX875P Pro
i875P
225 MHz
Gigabyte GA-8KNXP
i875P
225 MHz
Gigabyte GA-8KNXP Ultra-64
i875P
220 MHz
Asus P4R800-V DLX
Radeon 9100 IGP
216 MHz
DFI LANParty PRO875B
i875P
214 MHz
Gigabyte GA-8TRS350MT
Radeon 9100 IGP PRO
213 MHz
Gigabyte GA-8S655TX Ultra
SiS 655TX
210 MHz
Gigabyte GA-8TRS300M
Radeon 9100 IGP
206 MHz
The Gigabyte GA-8TRS350MT is not the fastest motherboard we've ever tested, and this is clearly visible by the low overclocking result listed above. Starting at 200 MHz FSB, we slowly increased the GA-8TRS350MT's clock speed, but without CPU or memory voltages to play with, this little adventure hit a dead end at 213 MHz.
I suppose it's ATI chipset is just not intended for enthusiast-class overclocking.... However, if you're into multimedia, that is where the Gigabyte GA-8TRS350MT really comes into its own.
Conclusions:
While successful in the 3D market, when it comes to motherboard chipsets ATI is still very much a rookie player. Its original Radeon 9100 IGP Pentium 4 chipset had potential, and in the end was clearly suited to the value-oriented consumer. The tweaked Radeon 9100 IGP PRO chipset has approximately 3% more potential, and is clearly best suited for value-oriented, middle to low-end consumer PC systems. It's Radeon 9200 GPU gives it headroom on the integrated videocard front, and certainly gives Intel's mainstream and Taiwanese rivals a run for their money.
ATI appears to have addressed earlier issues with memory compatibility, and updated its Southbridge solution to include the basics; Serial ATA/RAID and more USB2.0 ports. Probably the coolest feature ATI has added though is a set of TV-Outputs as standard equipment! Now if you wan to assemble a HTPC, one no longer has to buy a new videocard!
Because the Gigabyte GA-8TRS350MT is built on a Micro ATX form factor, its small size gives users more versatility for situations where a full ATX PC would be too large. If you're looking for a motherboard for that HTPC you're thinking about building, the GA-8TRS350MT is perfect. Heck it even comes with a TV-Out cable which is actually long enough to use!
From our highly subjective tests, the 2D image quality of the Radeon 9200 GPU was excellent (it has always been one of ATi's strong suits) while its 3D performance in FPS games was "satisfactory." On the scale of chipsets, the Radeon 9100IGP weighed in around the level of the i865PE or SiS 655TX. We were unable to track down a price for the Gigabyte GA-8TRS350MT, but I expect that its intended market will keep things quite competitive. System integrators tend to look for value-oriented solutions, and the GA-8TRS350MT certainly fulfills those modest qualifications well.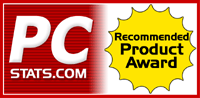 Find out about this and many other reviews by joining the Weekly PCstats.com Newsletter today!
Related Articles
Here are a few other articles that you might enjoy as well...