Gigabyte GA-8TRS350MT Radeon 9100 IGP PRO Review
---
ATI's first attempt at creating its own core logic chipset was called the 'RS300' Radeon 9100 IGP. The RS300 core logic supported the Pentium 4 platform, and its performance was good for system integrators, but a little lacking compared to the competition. Like the nVidia nForce chipsets before it, being bread by a videocard card company endowed the ATI RS300 with a couple of cool features not normally associated with motherboards; like SurroundView, DX8 integrated graphics, and support for 16X AF and 4X FSAA.
Gigabyte introduced a micro ATX motherboard featuring this ATI chipset, and called it the GA-8TRS300M. It was one of the few companies that actually produced a Radeon 9100 IGP motherboard in fact. And now Gigabyte is releasing the GA-8TRS3500MT, a micro ATX motherboard touted as an ideal solution for system integrators, and packed with video features more common for a videocard. The Gigabyte GA-8TRS350MT is based around ATI's new RS350 core logic, which the company insists is better than equivalent integrated graphics solutions from Intel.

Gigabyte GA-8TRS350MT



Includes:

Users Manual, Ultra/133 IDE cable, Floppy Drive Cable, Driver CD, S-Video/Composite VIVO cable, I/O Shield
The ATI Radeon 9100 IGP Pro as it is called, is essentially a tweaked version of the RS300, and so the big question on all our minds is whether or not this will enable ATI to really compete with established chipset manufacturers... on any level. Whatever the result ends up, the more chipset options on the market, the better for all consumers.
The Gigabyte GA-8TRS350MT mainboard PCstats is testing for you today is obviously based on the 'RS350' ATI Radeon 9100 IGP PRO Northbridge and ATI IXP 300 Southbridge. The GA-8TRS350MT includes such standard system integrator favourites as DX8.1 integrated video, 10/100 LAN, 5.1-channel audio codec, and TV-out.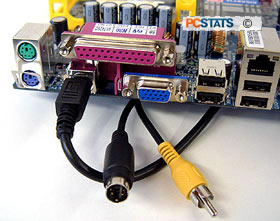 Alongside the three PCI slots is an 8X AGP socket, space for four DDR RAM sticks, two SATA RAID 0,1 devices and two ATA100 IDE channels. Make no mistake though, this compact socket 478 Intel Pentium 4 (including Prescott) motherboard is focusing its feature set towards the needs and demands of the value-oriented systems, with a some multimedia connectivity thrown in for good measure...
It's true that there are already chipsets on the market with integrated video from both SIS and Intel, but neither solution can match ATi's performance or multimedia powers. The main reason is that the Radeon 9100IGP Pro is built with Radeon 9200 GPU-class graphics, and comes with TV-out on top of everything! The GA-8TRS350MT also comes with a SVideo/composite cable that is about a meter in length, which is always handy.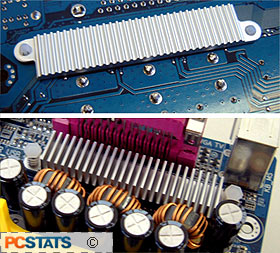 These days computers can fall prey to many different ailments. Worms are the most common, so it is nice to see Gigabyte bundle in some software from Norton (Internet Security 2004) to address this issue.
While this layout and physical features of the GA-8TRS350MT motherboard are pretty standard, there is one addition that caught our attention. The motherboard power supply mosfet's are cooled with a small aluminum heatsink that is positioned to take advantage of the air leaving the processor.
There is nothing remarkable about this, many manufacturers use heatsinks, heatpipes, fans, or fan ducts to achieve the same end result. What stands out is on the other side of the motherboard...
Flipping the board over, we find another low profile aluminum heatsink on the opposite side of the mainboard. Since much of the heat these electrical components produce is 'sinked to the PCB through the solder joint, I suppose the design engineers are trying to capitalize on that for some extra cooling. Still, this is a rather interesting application of the heatsink.