I like to see good software bundles with high end videocards, it just makes it a little easier to justify the $400-$500 they cost. The Asus V9999GE comes with a couple cool games, including Gun Metal, Battle Engine Aquila and Deus Ex: Invisible War. These titles should certainly keep hardcore gamers busy for two odd weeks at least.... then it is most certainly Doom3 time!
The V9999GE packages in Asus GameFace software, I must say setting up a translucent video conferencing window within games is a cool way to face down your opponents. I mean wouldn't like to see the reaction of your friend in a death match round just as you're crossing the finish line in a race, or sneaking up behind them with a rocket launcher?

PCstats very own Mr. Mike volunteered to use his face.
When setting up Asus Game Face, you'll need to load in Asus' software, and hook up the USB webcam that ships with the videocard, but at least it doesn't require any special drivers to function.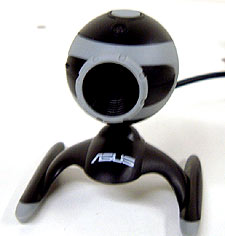 It works well with standard nvidia reference Forceware drivers.
Asus Game Face can view and monitor several people at any given time, or allow up to seven fellow gamers to see you reactions. You'd better be a good player beforehand, otherwise it could be quite embarrassing. ;-)
Of course, to make this possible Asus has also included a very nice USB web cam along with the V9999GE videocard! On the left side of the webcam is a small pin hole mic, so a separate microphone is not necessary, talk about handy! The stand is detachable, and allows the webcam to pivot up, down and rotate side to side.
Also, if you don't have a digital camera, and want to take a snapshot of yourself for that online dating site you've just joined, you can do that by pressing the grey button on top of the webcam. And Presto! your smiling mug shot will be saved to the PC desktop.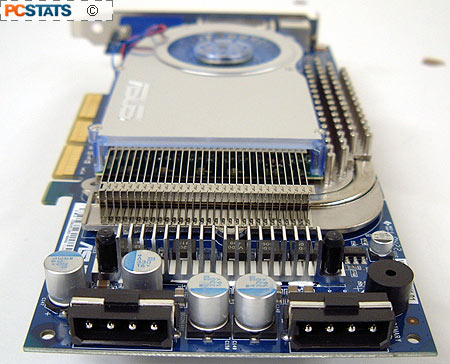 Overclocking!
Finally we get to the fun stuff! Starting with the nVidia Geforce 6800 core clocked at 350MHz (by default), we slowly raised its frequency a few MHz at a time. We were quite pleased to see the V9999GE crack the 400 MHz barrier, and continued on to 430 MHz.
Speeds higher than 433MHz and RivaTuner would scream about failed tests settings. Since there's no way around this, we were limited to a maximum core clock speed of 433 MHz. Not bad considering we started at 350 MHz.
As the Asus V9999GE applies 2ns Samsung BGA DRAM modules, and is already clocked at their theoretical maximum of 1 GHz, it is hard to say how much room is left for overclocking. We tried things slowly, at speeds of 3-5 MHz at a time, but all we were able to get out of it was 1075 MHz. At the very least, the core and memory of the V9999GE worked well when overclocked together.