Asus V9999 Gamer Edition Videocard Review
---
Ahh, I remember the days when my trusty old Pentium 100 could handle any game I threw at it. Upgrade the videocard for better frame rates? What are you talking about; 3D accelerators weren't even invented yet! ;-) These days, the games are exceptionally demanding, requiring consumers to invest in their videocards, memory, and CPU wisely.... and unfortunately quite often. If you want to piece together a gaming machine there are just so many variables to consider; it needs a fast enough processor, a good motherboard and of course, an $500 videocard that will make all you friends drool!
But this is all rather frightening if you think about it. A high end videocard costs about the same as an as entry level PC! Finding the right videocard for your gaming needs, all without breaking the bank is a hugely difficult task. This is where PCstats comes in; you've got a friend in the business, and we're here to give you the low down on all the latest gear!
Over the next several pages, PCstats.com will be testing the brand new, nVidia-based Asus V9999 Gamer Edition videocard. This baby is a beast, and behind its shinny exterior rests the precious nVidia GeForce 6800 GPU. Like many GeForce 6800's, the Asus V9999 Gamer Edition is equipped with 256MB of DDR3 memory. Oh, I can almost hear those Quake 3 pixels shaking with terror. ;-)

Asus V9999 Gamer Edition



Includes:

Driver CD, Quick Setup Guide, S-Video to Composite Cable, DVI to analog converter, PowerDirector, Ulead Cool 3D SE, Ulead Photo Express SE, Media @ Show SE, Asus DVD, Deus Ex: Invisible War, Gun Metal, Battle Engine Aquila, five game demo CD
The card is based on the standard Geforce 6800 Ultra PCB, and within the massive box you'll find necessities like an S-Video to composite cable for those days when you want to take advantage of the TV Out feature, a DVI to analog converter, a neat looking webcam, and a pretty decent software suite!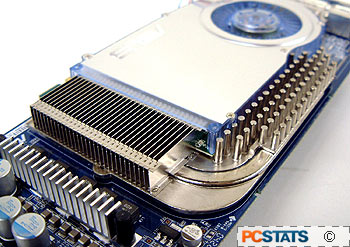 The heatsink Asus have chosen for this gigantic videocard is loosely based on the nVidia thermal reference design, but with a few Asus-only touches. For starters, if you peer down into the fan when this baby is all fired up, you notice three blue LED's giving it a suitable electric glow.
At the edge of the aluminum fan duct cover and to the left of the heatsink fins, Asus has placed six bright LED's in a line for further effect. In a dark case, the Asus V9999GE just lights right up! It's very cool, and would look awesome in a well kept case with a window.
The heatsink itself is another marvel of just how far videocards are advancing. The cooling system is composed of a couple different parts, which come together to handle different cooling tasks. In other words, Asus is not using a single heatsink to cool both the nVidia core and DDR3 memory, each cooling solution is separate.
Hidden below the aluminum cover plate is a skived style copper heatsink, bolted right onto the PCB so you can be sure it isn't going anywhere. Adjacent to that is the memory cooling solution which is a mix of cast aluminum, heatpipe, and stacked aluminum fins.

All rather complicated compared to the inexpensive extruded aluminum heatsinks typically found on ATIs videocards. The separate heatsinks help keep the GPU and memory cool independently, handy especially as the core generates a lot more heat than the memory does. Why use one heatsink to cool down the GPU, and heat up the memory? Doesn't make sense does it?
More Power! I Need More Power!
There were rumors floating around that GeForce 6800 class videocards could run without any external power support. Unfortunately that is simply not true. At least one molex power connector must be plugged into the primary header at the rear of the videocard, lest a shockingly loud high pitched alarm beep infernally to 'remind' you. Apart from this loud warning alarm, the Asus V9999GE videocard is remarkably quiet, but not too quiet. Compared to some past Asus videocards PCstats has tested, the V9999GE is modest on the noise front. Although, the videocard fan does not emit a high squealing sound (like a 60mm Delta), so it blends easily into background noise. You know what they say, with great power comes small amounts of noise.