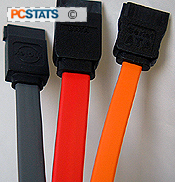 Having just moved a couple office PCs to RAID 1 configurations, I really appreciate any motherboard that includes this feature. If you have ever had a hard drive die on you, a RAID 1 array can easily save you $500 in data recovery fees. Native to nForce3 250 and Ultra motherboards is nVidia's 'NVRAID' feature. This service is essentially an IDE RAID controller which supports RAID 0, 1 and 0+1.
However, what makes this RAID controller so handy is that it works with combinations of IDE and Serial ATA hard drives. A RAID 1 array can be constructed with an IDE drive and SATA drive, just as easily as two SATA hard drives.
Serial ATA cables are small, but can they be made even smaller? You bet! The bright orange SATA cables (at right, pictured above) that come with the K8N Neo2 Platinum are about 75% the size of a regular SATA cable, and are just as durable. When you look at these cables next to an IDE ribbon, it's hard to imagine going back.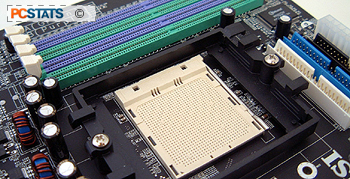 Unfortunately it's easy for one to get confused when installing memory into the K8N Neo2 Platinum. After reading the manual carefully, memory must be installed in slots one and two, or three and four to enable dual channel memory support. If all four slots are used then the pairs must be one, two and three, four. Other motherboards (including older MSI motherboards) typically colour coordinate which DIMM slots are channel A and channel B, but things are obviously quite different on the K8N Neo2 Platinum.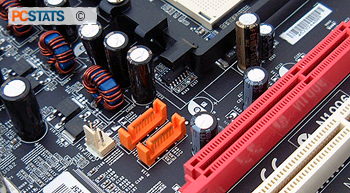 Also, why is it that all nForce3 Ultra motherboards have two Serial ATA channels right next to the CPU socket? Next up, a little benchmarking and some words on nVidia's NF3 ultra.