MSI K8N Neo2 Platinum Motherboard Review
---
The socket 939 AMD Athlon64 processor has been available for a couple of months now, but many enthusiasts continue to hold out. The simple reason may just be that VIA has yet to really fully deliver on the chipset front, or that nVIDIA's nForce3 Ultra has just been too slow to get out. It's hard to say with certainty, either way. Don't get me wrong though, VIA's K8T800 Pro solution is perfectly fine if you're an average user... but die hard overclockers are certainly turned off by the lack of working AGP/PCI locks. On the other hand, nVIDIA's nForce3 Ultra chipset is primed and ready to take over the Athlon64 market.
MSI Computer has been very friendly with the enthusiast market in the last few years PCstats has been reviewing its products. It's a strategy which has paid off for MSI. Many enthusiasts now sport MSI boards, or videocards in their systems in an attempt to reach higher overclocking speeds, and faster benchmark scores. Of course we're not just going cut a blank check on that matter, because as you all know, 'performance' is a very product-specific intangible.
Over the next few pages PCstats will be sussing out the MSI K8N Neo2 Platinum motherboard to see just how it performs, and the features it offers up. Built upon the nVidia nForce3 Ultra chipset, the MSI K8N Neo2 supports the socket 939 AMD Athlon64 or AthlonFX processor, and will support up to 4GB of PC3200 DDR memory.

MSI K8N Neo2 Platinum



Includes:

Quick Installation Guide, Driver CD, RAID Driver Disk, one Rounded IDE cable, One Rounded Floppy Cable, Two Serial ATA cables, one Molex Y Serial ATA power cable, Rear I/O shield, USB header bracket.
With respect to its onboard components, users of the MSi K8N Neo2 Platinum will find two onboard Gigabit NICs, IEEE1394 Firewire, 7.1-channel audio, four Serial ATA ports with NVRAID (RAID 0, 1, 0+1), and MSI's own CoreCell technology. That might not sound like a lot, but remember the four Serial ATA channels are integrated, as is Serial ATA/IDE RAID, and all this runs us about $140USD.
Around back at the I/O headers we find a couple of ports that stand out; namely the IEEE1394 Firewire, SPDIF coaxial audio connector, and twin Gigabit sockets. An optical SPDIF is snuggled in with the 7.1-channel audio headphone jacks, and while there is that one Firewire jack here, there are also two more headers along the lower edge of the matt-black K8N Neo2 Platinum.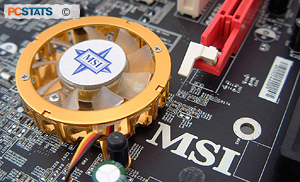 Yes, that's right, the K8N Neo2 has a cool black PCB with matt coating like an F117 stealth fighter! The rest of the MSI K8N Neo2 Platinum is quite colourful, and this is done to help us install the right bits of hardware in the right location if we aren't super-geeks. :-)
Given the number of motherboards to pass over PCstats' test bench, I'll admit that I like any changes to the PCB which are out of the ordinary, and this is certainly a nice little touch.
While the layout of the board is different from what we're use to, thanks primarily to the single nVidia chipset, I like the fact that the dual channel DDR RAM slots are up along the top of the board. The bulky IDE/Floppy cables are grouped together with the main ATX power connector off to the side, and the rest of the board remains pretty open and well laid out. Everything else is pretty much where it should be; the ATX12V connector at the top of the board, the Firewire and USB2.0 headers at the bottom.