PCstats tests DDR memory on two major CPU platforms - the AMD Athlon64 and the Intel Pentium 4 - because RAM behaves differently with each processor architecture. For instance, Intel users tend to run their memory at high speeds with high latency settings, and in general that works quite well for Intel-based computers. It would be detrimental to system performance if you were to run the same DDR memory settings on an AMD Athlon64 system, since latency plays a much larger role in system performance.
Because much of our audience is made up of enthusiasts, PCstats also runs overclocking tests so you can get an idea on how far the memory will go.
On both Intel and AMD test PCs, we're only interested in seeing how high we can go with the memory running 1:1, as running with other dividers puts the overclocking bottleneck elsewhere, and not with the system memory. On the Pentium 4 test system we sometimes use higher latencies in our tests, as latencies are not as important. With the AMD Athlon64 test system, the DDR RAM latency must run at 2-2-2-5, or the memory's tightest possible timings, as quick access is more important to the CPU design.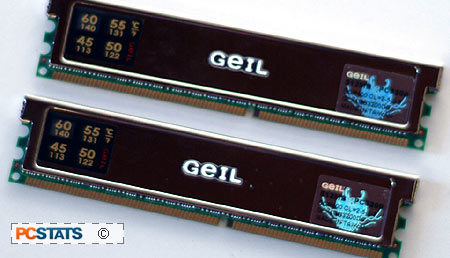 Overclocking the memory!
As usual we started with the Athlon64 overclocking first, and without much fan fare the GeIL DDR reached timings of 2-2-2-5 on an Asus K8V motherboard with absolutely no problems.
After raising the motherboard clock speed a few MHz at a time, we ran into a few stability problems at the 210 MHz mark. Increasing the DIMM voltage to 2.8V solved this issue and we continued on to 227 MHz. Unfortunately, any speeds higher would cause instability, but 227 MHz is certainly not too bad for PC3200 memory!
Traditionally we've had better luck overclocking memory on the Intel test bed, but right away the Ultra-X PC3200 DDR ran into a bit of trouble at 2-2-2-5. Stability problems would crop up now and then, so the voltage was increased to 2.6V (JEDEC PC3200 default voltage) and this solved the problems. The FSB was increased in 5-10 MHz intervals, and by the time 223 MHz was reached it had to have its voltage bumped up to 2.8V.
Ultimately GeIL's Ultra-X PC3200 DDR max'd out at 240 MHz on the Athlon64 system. Anything faster than 240MHz required a drastic voltage increase, and just for curiosity we increased the voltage all the way up to 3.4V to achieve a very nice 257 MHz with 2-2-2-5 timings! For the benchmark results though, we tested at 240 MHz since ~2.8V is the most voltage most motherboards provide.

PCStats Test System Specs:
system 1
system 2
processor:

amd athlon64 3200+

intel pentium 4 2.4c

clock speed:

10 x 200 mhz = 2 ghz

9 x 227 mhz = 2.04 ghz

12 x 200 mhz = 2.4 ghz

12 x 240 mhz = 2.88 ghz

motherboards:

asus k8v dlx, k8t800

abit ic7-max3, i875p

videocard:

asus radeon 9800xt

ati radeon 9800xt

memory:

2x 512mb corsair twinx3200xl pro
2x 512mb ocz pc3200 platinum limited ed.
2x 512mb geil ultra-x pc3200

hard drive:
40gb wd special ed
20gb wd hdd
cdrom:
msi x48 cd-rw/dvd-rom
nec 52x cd-rom
powersupply:
vantec stealth 470w
pc power & cooling 510w
software setup

windowsxp build 2600
via 4in1 4.51v
catalyst 4.8

windowsxp build 2600
intel inf 5.02.1012
catalyst 4.8

benchmarks

business winstone 2002
sisoft sandra 2004
pcmark2002
pcmark04
3dmark2001se
ut2003