GeIL Ultra-X PC3200 Memory Review
---
Just because DDR-2 RAM has arrived on the scene doesn't mean that DDR memory will be disappearing anytime soon. If you have been anxious about upgrading all your existing DDR to DDR-2, relax a little... There is still plenty of life left in this successor to SDRAM, and for consumers upgrading their existing PCs now, there is nothing better than a little extra memory to go around.
GeIL make it their business to offer enthusiast calibre DDR, and these particular 'Ultra-X' modules we're testing in this review certainly have the right specs for that. The company itself is based in Asia, and have been steadily working the North American market for a few years now, trying to become as well known as Corsair, Mushkin, or the like. PCstats had an opportunity to meet with GeIL representatives at Computex 2004 Taipei this past summer, and from our discussions, GeIL definitely has its sights set on big things. Who could forget the awesome looking Ultra Golden Memory which used WLCSP DRAM? That red LED eye in the picture of the dragon was very cool, and what case modder wouldn't love to have that?
In this review PCstats is testing something a little more mainstream, but no less interesting; a pair of GeIL's Ultra-X PC3200 512MB DDR RAM DIMM's. Each DDR memory module has a liquid crystal thermal monitoring sticker attached, which shows the temperature in both Celsius and Farenheit. Great for the enthusiasts who wonder how hot their memory runs, but difficult to see when the DDR modules are actually installed inside a case!
Each stick of Ultra-X PC3200 DDR is rated to run at 200 MHz, while keeping memory timings of 2-2-2-5 at a voltage of just 2.55V. To help protect the memory from physical damage, tin coated copper heatspreaders are utilized.

GEIL Ultra-X PC3200
GeIL always produces some nice looking memory eh? ;-) Those of you with case windows better be careful with finger prints, the chromed metal smudges easily.
I know you're used to PCstats removing the RAMsinks from the memory to get a better look at the actual DRAM, but the heatspreaders used here are bonded to the memory pretty solidly. According to GeIL, the GLX1GB3200DC uses 5ns 'hand picked' DRAM which is optimized for dual channel operation. Each stick is built upon a six layer 'Ultra Low Noise Shielded PCB' with gold plating.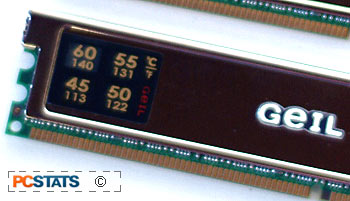 This is overclockers memory for sure, and GeIL offers lifetime warranties on its products.
As you've probably noticed, the most unique feature of GeIL's Ultra-X PC3200 DDR is the temperature monitoring sticker. It is really just like those aquarium temperature stickers, the liquid crystal medium changes colour to indicate what the temperature range is.
I have long complained about how memory runs hot these days when overclocked or overvolted, and at least now I can get an approximate idea at what that temperature actually is. During PCstats tests with voltages up to 2.8V, the GeIL DDR measured below 45 degrees Celsius (36C according to my Fluke 54-II). When running under slightly more dangerous voltages up to 3.4V, the memory temperature hovered between 50-55 degrees celsius. 48C according to the Fluke digital thermometer.
The sticker is not the most accurate way of measuring temperatures, but it does give users a very good ball park figure on how hot their memory is. Next up, overclocking results!
*We mistakenly called the GeIL Ultra-X memory Ultra Platinum.