I'm not completely sure if Antec builds their own power supplies, or OEMs parts from different sources, but looking inside the unit I see no identifying marks of any kind. The Antec TruePower 330W is kept cool with the two fans; one 92mm Top Motor DF1209BA pushes air at 32CFM, while producing 35.8 dB of noise. The rear exhaust fan is 80mm in size, and made by Top Motor (DF1208BA, 39CFM, 34dB). When running inside a PC, the Antec TruePower 330W is nearly silent.
Wire fan grills are used to keep objects out the fan blades, and to ensure the least possible noise and airflow restriction.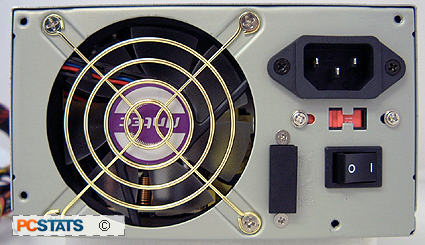 Both fans are replaceable, but you'll have to cut the RPM wire of the 80mm exhaust fan if you want to use something else. Other than that there are no serviceable parts inside the power supply... not that you should even be looking around in there as it will void the warranty. The aluminum heat sinks inside the unit are compact, so if a fan ever fails it may lead to overheating.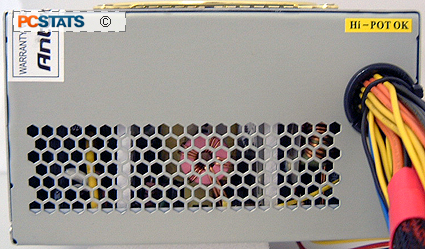 Each rail on a power supply is rated for a certain amperage, and different wattage of power supplies will offer different values, though the voltage levels will always remain the same; 3.3V, 5.0V, and 12V.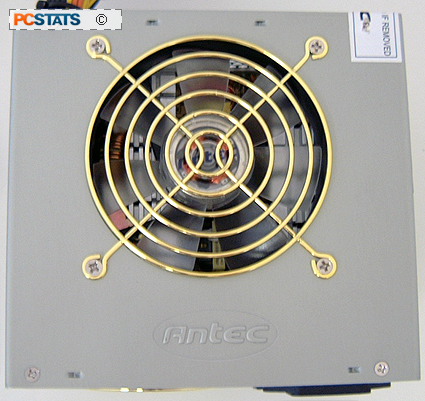 The 3.3V+ rail on the TruePower 330 delivers 28 amps, the 5V+ can supply up to 30 amps, and the 12V line a healthy 22 amps. The 12V line is the only rail which should have a load (0.8A according to the label) when the power supply is turned on.