Performance Tests
Considering that the Pentium 4 test system draws a lot of power, I'd say the TruePower 330 handled the load pretty well. While the 12V rail dipped to 11.96V, this was within fluctuation specs. Serious dips in power could the route cause of spontaneous reboots your PC, but differences of +/- 5% are typically expected, and should not cause that type of problem.

PCStats Test System Specs:
processor:

intel pentium 4 3.0c

clock speed:
15 x 200 mhz = 3.0 ghz
motherboards:

gigabyte 8knxp, i875p

videocard:

ati radeon 9800xt

memory:

2x 256mb corsair twinx 3200ll

hard drive:
40gb wd special ed
cdrom:
nec 52x cd-rom
powersupply:
antec truepower 330w
software setup

windowsxp build 2600
intel inf 5.02.1012
catalyst 4.6
*all voltages were read from the motherboard bios.
Listed Voltages
AMP
Lower Voltage
Upper Voltage
Jitter
+3.3V
28A
3.3v
3.31
0.01v
+5.0V
30A
4.94v
5.01
0.07v
+12V
22AA
11.96v
12.03v
0.07v
-12V
1.0A
11.99
12.00v
0.01v
-5.0V
0.5A
5.00v
5.00v
0.00v
+5.0Vsb
2A
4.99v
5.00v
0.01v
With a system connected to the power supply voltages do not fluctuate very much. The fluctuations are noted above, and if they vary too much there may be stability problems.
When looking at the Seasonic Power Supply test results we see two values, wattage and volt-amps. Since it might not be clear what they measure here's a brief overview.
The volt-amp value is actually how much real power is being consumed by the power supply being tested. The higher that value is, the more electricity is being consumed by the power supply. Because no electrical device is 100% efficient, there will always be some loss at converting AC to DC. The closer the volt-amps and wattage figures are to each other, the more efficient a power supply is. This is called the Power Factor: wattage / volt-amps = PF.
Since we're testing with a 120W dummy load, the load on the power supply should be as close to this figure as possible. Anything above this load describes the overhead and wasted energy (as heat) for the particular power supply being tested.
For the unloaded tests, the wattage and volt-amp figures should be as close as possible to one another first off. Secondly the lower the figures are, the less power is being used.
Seasonic Load Tests

Power Supply
Wattage
Test
Load
Unloaded
Seasonic SuperTornado
400 W
Active Power
177 W
6 W
Apparent Power
182 VA
7 VA
Vantec iON2

350 W

Active Power

192 W

10 W
Apparent Power
277 VA
21 VA
Antec TruePower 330
330 W
Active Power
195 W
22 W
Apparent Power
289 VA
38 VA
Here in the Seasonic loaded and unload tests, we can see that the Antec TruePower 330W is not the most power efficient PSU, especially when unloaded. In both the loaded and unloaded tests, Antec's PSU draws more power than the competition. A lot more energy is wasted as heat on the Antec PSU as well.
A Good PSU for the money...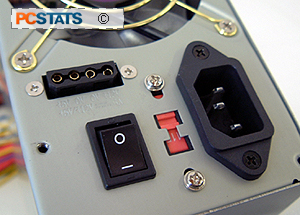 It can be argued that the power supply is one of the most important features of a computer next to the processor and motherboard, yet most people overlook what powers their systems. When it comes to selecting the right power supply, if pays to make the right choice, and that never involves flashing lights or bright LEDs. While Antec is probably better known for its cases, the companies line of power supplies quite popular these days. The Antec TruePower 330W we tested here today is a fine example of what they're capable of, and when you consider the power supply is only $73 CDN ($57 US) things couldn't be sweeter!
Those of you with larger cases will be happy to see that Antec equips the TruePower 330 with nice long cables, and just in case you run devices outside of the case, there is a solution for that too. The Antec TruePower 330 has a molex at the back of the power supply, quite an innovative feature if you have to run power to an external pump, or fan.
The Antec TruePower 330's electrical characteristics when hooked up to a system were excellent, and voltages remained very stable. When running the Seasonic load tests, we found that the that Antec is not as power efficient as other models tested. This aspect does not affect PC reliability, but rather how much energy is wasted as heat. In the long term, this wasted energy can lead to higher electrical bill than a more efficient PSU will draw.
Related Articles
Here are a few other articles that you might enjoy as well...
1. Belkin Universal 1000VA UPS Review
2. Powerware 5125 1000VA UPS Review
3. Seasonic Super Tornado 400W Power Supply Review
4. Vantec ION 400W VAN-400B Power Supply
5. PC Power & Cooling Turbo-Cool 510-PFC Power Supply