To help you find out if Windows XP supports your current hardware, Microsoft provides a catalog and the Upgrade Advisor utility. The upgrade advisor will analyze your system's hardware and installed software for upgrade compatibility with Windows XP Professional.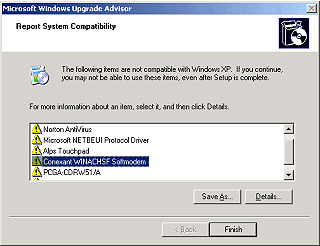 The upgrade advisor also runs automatically during the upgrade procedure itself, but it may give you a heads-up on potential problems if you run it before the fact.
It will inform you if each component of your system is currently supported or unsupported by Windows XP. Keep in mind that 'unsupported' does not mean that component will not work in XP, it just means that drivers for it are not included in the XP installation CD and will have to be obtained from the manufacturer or another source.
There are several websites dedicated to Windows hardware drivers, and if you have no luck on the manufacturer's website, you may well find what you need from one of these sources. A good place to start is www.driverzone.com.
If you can, download the drivers you will need for unsupported hardware now. Store them in c:\ or a new directory.
As far as software is concerned, things get a little more complicated. It's quite possible that the programs you use will work fine in Windows XP but still not survive the upgrade. This is due to the differences between the Windows XP registry (where Windows stores the information it needs to access programs and settings) and older versions of the Windows registry. Software that the update advisor informs you will not work in XP should be uninstalled before you upgrade.
Since there are so many different programs that can be installed on your system, there is not really a way to prepare completely for this, other than recommending that you have your software on hand to re-install if necessary. Most programs that work with Windows 98/ME are perfectly happy in Windows XP, and the operating system includes strong compatibility settings for use with older software (see #22 under this link for guidelines).
If you are extremely concerned with a particular program, our advice would be to back up all essential data from that program, contact the manufacturer or check their website to verify that it will work with XP, then uninstall the software before the upgrade and install it again after you have completed the process. This is the most certain way to ensure that it works correctly afterwards.