Once it has finished installing WinXP, create a new user when prompted. Note that this user has administrative privileges just like the built-in administrator account. As soon as possible you need to add a secure password to this account too. See below for more information.
After a successful upgrade
Assuming your upgrade was successful, and you are now booting into Windows XP for the first time, congratulations! For an easy guide to getting started with Windows XP, read the later pages of our guide to installing that operating system here. Once you have created a username and password and have booted fully into Windows XP, your first step should be to install any hardware drivers that you downloaded before the upgrade.
If you want to check what device drivers you might need to locate, view the device manager by right clicking on 'my computer' and selecting 'manage' then selecting 'device manager.'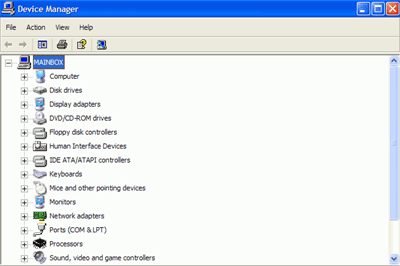 Devices with yellow exclamation points need drivers or are not functioning properly. Once you have all necessary device drivers, your next step should be to update and secure your PC.
Windows XP is a paradox in that it is both more secure and less secure than Windows 98 and previous operating systems. It is more secure in that XP passwords and usernames will effectively prevent anyone who does not have the proper credentials from seeing your data. It is much less secure in that anyone who does obtain your username and password will have practically unlimited access to your entire computer, even over the Internet.
There are several steps you can take to secure your computer from unwanted access, spyware and virus infestations. Rather than list them all here, consult our east 10-step guide to securing a Windows XP computer. Follow the guide for a secure PC. The Internet is a dangerous place for an unprotected computer.
Finally, you will need to activate your copy of XP over the phone or Internet. Follow the onscreen prompts to do so. For more information on product activation with XP, see our article here.
Troubleshooting Tips
There are a variety of issues that you might run into while upgrading to Windows XP, too many to cover here. Fortunately, Microsoft has a considerable store of resources on the subject (as you might imagine) and you can probably find the help you need from them. Here's a link to get you started.
This site also has a convenient list of many known issues with upgrades to Windows XP, so you might want to start your search here.
If you are experiencing blue screens or other crashes that are preventing you from installing or using XP correctly, you can try our guides on troubleshooting BSOD (Blue Screen Of Death) errors and using the Windows Safe Mode to repair Windows errors.