Gigabyte's Dual Power System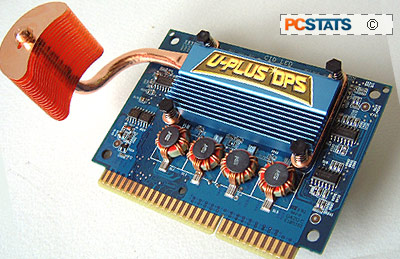 One of the neat little extras included on the GA-8GPNXP Duo is an auxiliary copper heatpipe cooled power system. Gigabyte call it the 'Universal-Plus Dual Power System 2' (GC-U-Plus DPS) and it is an eight-phase power circuit designed for various power loads.
Essentially, it maintains a clean supply of power for the CPU, and future CPUs. It is not necessary for the board to run, but provides an added level of redundancy via a small card slot.
In the past, Gigabyte has employed active cooling solutions on its DPS, which raised the noise levels inside the case a few decibels. With the U-Plus DPS, the MOSFET circuitry is cooled with a copper heatpipe that moves the heat towards a larger stacked copper fin array. A small copper plate transfers the heat from the electronics, to the heatpipe.
The GC-U-Plus DPS cooling fin is positioned to take advantage of the exhaust air from the CPU heatsink, and uses that to reduce its temperature. Thus, no added fan noise is introduced into the system, and the U-Plus DPS remains cool. Quite an innovative solution, and quite silent.

For our review of the Gigabyte GA-8GPNXP Duo we used a Gigabyte 3D Cooler Ultra copper socket 775 heatsink which meshes perfectly with the DPS system as you can see below. The GA-8GPNXP Duo has a 4-pin CPU fan header for the newer class of Intel FMB2 heatsinks, but is keyed so that it will work with standard 3-pin fan connectors too.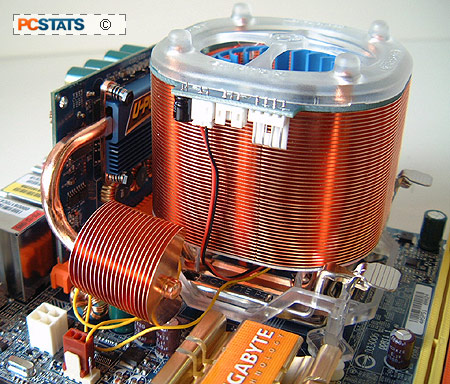 The 915P Northbridge receives similar treatment with respect to keeping the GA-8GPNXP Duo as quiet and cool as possible. The heatsink on the 915P chipset can be used without any form of active cooling, or the included snap-on fan can be installed for a little extra airflow.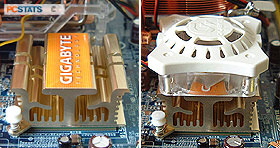 Personally, I'd rather leave the fan off the Northbridge and not introduce any noise into the system, but if you are overclocking it is a nice extra to use. Next up, what the new 915P chipset means to computers now...