The 915P is targeted towards the everyday user, who wants a computer that performs, but has to keep things within budget. Like the more expensive 925X chipset, the 915P can run at 800 MHz as well as 533 MHz FSB.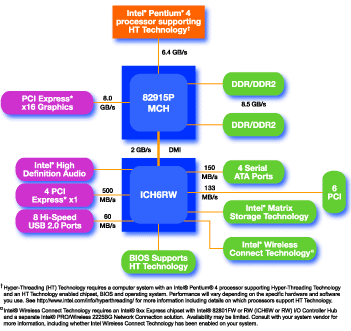 Unlike the 925X though, the 915P is compatible with DDR-2 RAM and standard DDR memory, making it a much easier upgrade path for end users. Obviously, DDR-2 and DDR memory cannot be run at the same time, it's an either or situation.

Additionally, between the memory controller and system memory is a 8.5GB/s connection, which should be good enough for even the most demanding applications. The 915P supports PCI Express x16 videocards, just as the 925X does, and 8GB/s, there is plenty of reason to look forward to a few rounds of Doom3 on a board like this!
The ICH6 Southbridge:
The Intel ICH6 SouthBridge adds a little more into the mix where the quite popular ICH5 left off. First off, ICH6 natively supports four Serial ATA ports, an increase from its predecessor. However, there are also some rather important features no longer there, like IDE. The ICH6 supports just one IDE channel now, primarily for use with CD-ROMs. The emphasis is really on SATA hard drives, so next time you are looking to upgrade your storage don't bother with anything other than Serial ATA.
For your expansion needs, Intel's ICH6 introduces support for PCI Express, which one of the most radical changes to desktop computer infrastructure in recent times. The ICH6 handles up to four PCI Express x1 slots, or six regular PCI slots. The videocard PCI Express x16 slot is the responsibility of the 915P northbridge.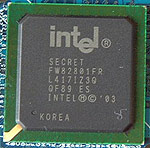 With IDE quickly going the way of low gas prices, Serial ATA devices are where it's at. Being that IDE RAID was a very popular selling point of many motherboards, it would be a tragedy if consumers were shuffled back to the days before RAID with SATA. This isn't the case, thankfully.
The Intel ICH6R variant supports RAID, which Intel calls its "Storage Matrix Technology." The RAID feature is only found in ICH6R southbridges, and it supports RAID modes 0, 1 and 0+1.
Intel High Definition Audio
The ICH6R southbridge contains its own audio subsystem, which Intel hopes will ensure better audio quality for motherboards based on its new chipsets. Intel's 'High Definition Audio' is a step up from the stock AC'97 audio we all love to hate. The better breading of this audio controller makes the 7.1-channel audio system packed into the Gigabyte GA-8GPNXP Duo worth taking note of.
Intel 'High Definition Audio' boasts a long list of features, but one of the cool things it can do is enable up to two separate streams of audio at once (say, MP3's through the old home stereo, and gaming on the PC through a set of headphones), with each stream able of delivering eight channels at 192 kHz/32-bit quality.
Additionally, along with the GA-8GPNXP Duo's full compliment of jack-sensing audio ports are a set of SPDIF in / out connections at the rear I/O panel. With these two SPDIF RCA ports, the GA-8GPNXP Duo could be connected directly to home theatre system, or used for multimedia editing of audio from another source. Now, let's see what the GA-8GPNXP Duo can do for us in the way of overclocking!
Overclocking Tests
It's a shame Gigabyte does not focus more on the enthusiast market considering how well the do everything else. We started at 200 MHz FSB and everything was uneventful until 216 MHz FSB - at that point anything higher would cause the system to lock up. We tried increasing some voltages for the CPU, DDR/DDR2, and PCI Express videocard, but nothing alleviated the issue. Swapping out the DDR-2 RAM for a couple of sticks of standard DDR didn't help either.
I'm not sure exactly what was holding us back but further testing on this front is definitely called for. Next up, the BIOS and benchmarks!