AMD Athlon 64 4000+ socket 939 Processor Review
---
On October the 19th, AMD officially launched the latest version of its successful Athlon 64 processor line, the 2.4GHz Athlon 64 4000+. PCstats spent a few weeks with this CPU prior to its release, and after running the silicon through its paces, we've come to a couple conclusions which we'll share with you in this review.
As you're undoubtedly already aware, the AMD Athlon 64 4000+ is the third Athlon 64 processor to be released for AMD's new socket 939 platform, following up on the successes of the Athlon64 3500+ and 3800+. These Athlon 64 processors share the socket 939 form factor with the high end Athlon 64 FX class, though as you will see later in this review, the line between the two is beginning to blur.
Interestingly, the Athlon 64 4000+ is not clocked faster than its nearest predecessor (the Athlon64 3800+, also 2.4GHz) as you might expect, but that doesn't preclude it from obtaining a healthy boost in the benchmarks. Rather than a little bump up to 2.6GHz, the Athlon64 4000+ has had the benefit of some internal core changes to boost its performance. To be specific, the Athlon 64 4000+ contains twice as much Level 2 Cache memory of the Athlon64 3800+. In other words, this chip is packing a full 1MB of exclusive L2.

AMD Athlon64 4000+ Processor

Tech Specs

Clock: 2.4GHz
L1: 124KB
L2: 1MB
Multipiler: 12x
Package: 939-pin
organic mPGA
Core: 130nm SOI
Transistors: 105.9M
Die Size: 193mm2
Vcore: 1.5V
Thermal Power: 89W
Cost: $729USD

Further Technical Details:
CPU-to-Memory Controller: 2.40GHz
Memory: Integrated 128-bit wide memory controller
Types of Memory: PC1600, PC2100, PC2700 and PC3200 DDR
HyperTransport Links: 1
HyperTransport Spec: 2GHz (2x 1000MHz / DDR)
Effective data bandwidth: Up to 14.4 GB/sec (8GB/sec
HyperTransport bandwidth plus 6.4GB/sec memory bandwidth)
Fab location: AMD's Fab 30 wafer in Dresden, Germany
Ambient Case Temp: 70 degrees Celsius
Max Icc (processor current): 57.4A
A 64-bit & 32-bit CPU
When originally introduced in the summer of 2003, the AMD Athlon 64 processor line signaled the emergence of a new breed of desktop 64-bit/32-bit capable processors. The Athlon 64's architecture allowed it to operate as a 32-bit processor, or as a 64-bit processor when future versions of Windows XP-64-bit were to become available.
The modes as they were called, included 'Legacy mode' which was for 32-bit x86 software, and 'Long Mode' which is made up of two sub modes; 'Compatibility Mode' and '64-bit Mode.'
The Compatibility mode is designed for a 64-bit operating system such as Microsoft's impending 'x64 edition' of Windows XP and Microsoft Server 2003 running 32-bit software. 64-bit mode is intended for a pure 64-bit environment, both operating system and software.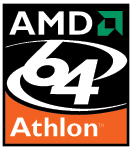 These modes of operation allow the AMD Athlon 64 processor to remain compatible with conventional 32-bit operating systems and applications, while at the same time allowing software manufacturers a solid 64-bit platform on which to design the applications and operating systems of the future. PCstats has recently conducted a few head on comparisons between these 32-bit and 64-bit modes, which illustrate the performance potential of the Athlon64 quite nicely.
In its short history, the AMD Athlon 64 processor has already gone through a few design changes. Starting with the 754-pin package, AMD has migrated the latest versions of this processor to a 939-pin package. The Athlon64 4000+ continues to share this socket 939 form factor with its newest 64-bit cousin, the 2.6GHz Athlon FX-55.
Though in the past you could differentiate the Athlon 64 from FX processors by the way their memory controller operated (single channel for the Athlon 64, dual-channel for the high-end Athlon FX line), the current socket 939 models of both processors use dual channel memory controllers. The two processor types also differed in the past by the amount of Level 2 Cache memory they came equipped with. Older Athlon FX models had double the Level 2 Cache memory of their more affordable Athlon 64 siblings. This trend has also apparently come to an end, as now both the Athlon 64 4000+ and the Athlon FX-55 sport a full 1MB of Level 2 Cache memory. Presumably this is to help AMD streamline their manufacturing process.