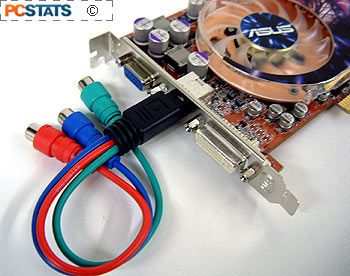 With the card based on the Radeon X800XT PE core there's little doubt that the Asus AX800XT/TVD is extremely fast as you will soon see in the benchmarks. To sweeten the deal, the X800XT is HDTV compatible so you can output video with greater visual fidelity than previously possible.
The Asus AX800XT/TVD still maintains an assortment of RCA video and S-Video cables, but along with that are the familiar red, blue and green of a component output. Assuming you have an HDTV screen, the difference in picture quality between this and s-Video is pretty substantial.
Asus has long touted their Game Face software which allows gamers to see each other within games through a web cams. Another place where Asus has traditionally been better then the rest is their software package. While not the best we've seen it's certainly very good and bound to keep people busy for quite some time!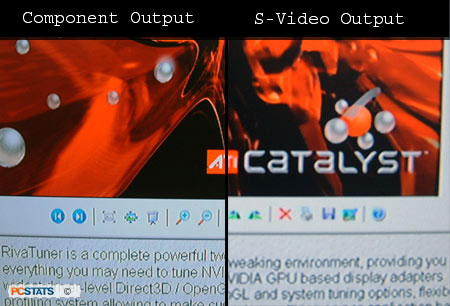 The Asus AX800XT/TVD also comes with a USB web camera as we already mentioned. This is for a software application called Asus GameFace. I must say that setting up a translucent video conferencing window in the corn of the screen within games is a cool way to face down your opponents. After all, who wouldn't like to see the reaction of friend in a death match round just as you're crossing the finish line in a race, or sneaking up from behind with a rocket launcher?

PCstats very own Mr. Mike volunteered to use his face.
When setting up Asus Game Face, you'll need to load in Asus' software, and hook up the USB webcam that ships with the videocard, but at least it doesn't require any special drivers to function. It works well with standard nvidia reference Forceware drivers.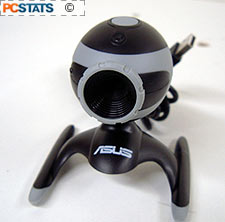 Asus Game Face can view and monitor several people at any given time, or allow up to seven fellow gamers to see you reactions. You'd better be a good player beforehand, otherwise it could be quite embarrassing. ;-)
The wecam is itself a pretty decent unit. On the left side of the webcam is a small pin hole mic, so a separate microphone is not necessary, talk about handy! The stand is detachable, and allows the webcam to pivot up, down and rotate side to side.
Also, if you don't have a digital camera, and want to take a snapshot of yourself for that online dating site you've just joined, you can do that by pressing the grey button on top of the webcam. Presto! Your smiling mug shot will be saved to the PC desktop.
While the games which are included with the Asus AX800XT/TVD are not the latest and greatest, they're sure to keep gamers busy for at least a couple of weeks. The legion of CS fans will be happy to see that Counterstrike Condition Zero is included, which is easily one of the most popular online multiplayer games in history.