Asus AX800XT/TVD Videocard Review
---
In the cut-throat computer industry pricing is key, and there is very little brand loyalty among consumers. In spite of such challenges, Asus has built what could almost be considered a "cult following" among end users. In truth, 'build quality' among the top tier motherboard manufacturers is pretty across the board (no pun intended), but what separates AsusTek from the rest is its excellent and longstanding reputation. In the late 90's and early 2000's, Asus was the only manufacturer who's products performed consistently on the top. The competition has caught up, but the industry still has a mentality of looking up to Asus' lead when it comes to new components, or trends. This is best exemplified by the shift in the industry from exclusive graphics processor deals, into bilateral product offerings of both ATI and nVidia videocards.
In this review PCstats is testing one of Asus's flagship Radeon videocards, the AX800XT/TVD. Built on the extremely popular ATI Radeon X800 XT Platinum Edition VPU, I'm sure you can already guess that the benchmark results are going to be fast... like hella-fast! ATI offload the production of their graphics processors to TSMC's now aging 0.13 micron manufacturing process, and each one of these little slabs of silicone contains a full 160 million transistors. Backing those 160 million transistors is 256MB of Samsung 1.6ns DDR-3 memory, clocked at 1.12 GHz. The Asus AX800XT/TVD retails for about $724 CDN ($583 USD).

Asus AX800XT/TVD



Includes:

Driver CD, Quick Setup Guide, Component Output Cables, VIVO Cables, DVI to analog converter, Molex Y Splitter Cable, PowerDirector, Ulead Cool 3D SE, Ulead Photo Express SE, Media @ Show SE, Asus DVD, Deus Ex: Invisible War, Counterstrike Condition Zero
To compliment all the power, Asus have included a whole host of goodies with the AX800XT/TVD, an 8X AGP videocard. Of special note is an Asus web cam for the GameFace software (so you can see your friends, and then their reaction as you blast them with a rocket), and VIVO with component-output capabilities! On the software side, we find a copy of PowerDirector, Ulead Cool 3D SE 3.0 and Ulead Photo Express SE 4.0, Media @ Show SE 2.0, Asus DVD, Deus Ex: Invisible War and Counterstrike Condition Zero. All that's lacking is a DVI-to-Analog converter, but we'll let that one go for now...
The Asus AX800XT/TVD videocard is based on the reference PCB design for the ATi X800XT PE, but does not appear to just be an ATI manufactured card with an Asus sticker stuck on. ATI are allegedly really anal about who makes their cards, and virtually every manufacturer offers the same hardware. The X800XT/TVD is a bit shorter than the limousine like high end nVIDIA videocards, and takes up a single slot only (it has a compact copper cooling solution).
Wondering what that little yellow connector is at the end of the card? Well the mystery is pretty easy to solve. The little yellow connector is not a power connector, or an audio one for that matter, but rather a video in port which can be used with front case mounted video jacks. The necessary cable is not included however since it is a rather specific function.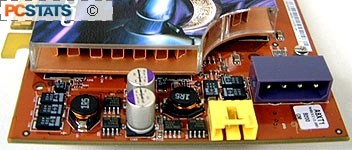 The heatsink on the Asus AX800XT/TVD looks very similar to the one found on retail ATi Radeon 9800XT cards, but is actually a bit smaller. This copper folded fin heatsink does not come in contact with the memory, but that's not entirely necessary since DDR-3 RAM runs cooler than DDR-2 DRAM.
At four points around the center of the fan are blue LEDs that shine bright when the videocard is powered up. It looks cool, and you'll love it if you have a window in your case!
The clever engineers at Asus have selected a great cooler for this card, and during testing the AX800XT/TVD it remained completely silent! With noise becoming so much of an issue with fans popping up on every component these days, this is one card that will not add to the noise pollution.