MSI Radeon RX800XT-VTD256E Videocard Review
---
Like the competition between CPU giants, ATi and nVIDIA actually compliment each other quite well. For example, nVIDIA's release of the GeForce 6800GT was a superb move; with a price point about $100 less than a GeForce 6800 Ultra, the 6800GT offers virtually 99% of the performance. Reason enough for gamers to rush out and snap up these cards like hot cakes.
ATI followed nVIDIA with a similar strategy, releasing its long awaited Radeon X800XT videocard clocked at a slightly lower frequency than its flagship Radeon X800XT PE. If things progress as they did for nVidia, ATI should have equal success.
Architecturally identical to the ATI Radeon X800XT PE, the 16-pipeline Radeon X800XT core is clocked a whole 20 MHz slower than the Platinum Edition, and so it sits at 500 MHz. The DDR-3 memory backing up the ATI R420 core is clocked at an even 1 GHz, down from 1.12 GHz for the X800XT PE version.
MSI's RX800XT-VTD256E direct competition comes from the nVidia GeForce 6800GT class videocard, as both PCI Express cards are one step down from the top of the heap. However, as you'll soon see in PCstats benchmarks, the MSI RX800XT-VTD256E does very well for itself!

MSI RX800XT-VTD256E Videocard



Includes:

Users Manual, Component Out Cable, VIVO Cable, DVI to analog Converter, MSI Sticker, Driver CD, Super Pack Software CD, VirtualDrive/RestoreIt! CD, MSI 3D Desktop, MSI Media Center, WinDVD, WinDVD Creator, Uru, Prince of Persia, XIII, fourteen game demo CD
MSI traditionally bundles its videocards with lots of goodies, and the RX800XT-VTD256E does not disappoint... and we'll get into that in a moment.
As you can see the MSI RX800XT-VTD256E is based on the reference design ATI Radeon X800XT PCI Express videocard. The DDR-3 BGA DRAM modules have no cooling solution because they really don't generate enough heat to warrant a heatsink. If you're planning to overclock this card though, you might want to invest in a few RAMsinks for the rear-mounted BGA RAM.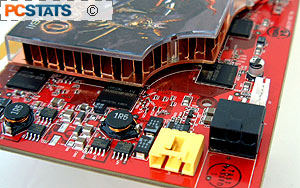 As I'm sure you've noticed, on the top right hand corner of the videocard there is an odd looking black six pin 12V+ power connector.
Both ATi and nVIDIA agreed that future high end videocards needed a more dedicated power source than what a standard molex power connector could deliver, so the two companies agreed on the standard.
With two 12V+ lines being supplied to the videocard alone, best friends ATi & nVIDIA could have gone with a four pin connector like that used for the ATX12V motherboard connector, but that would have caused confusion with end users. No current powersupply supports the new 6-pin videocard power connector standard as yet, so along with the MSI RX800XT-VTD256E comes in a dual molex-to-six pin 12V+ adaptor. Oh, the little yellow audio style connector is for a front panel S-Video out connection (that cable is not included).
Current generation videocards do not eat up all 2.1GB/s worth of bandwidth 8x AGP offers, but it's only a matter of time before that happens. So, in comes PCI Express. The videocard sized PCI Express x16 slot provides almost four times more bandwidth (8 GB/s) than what 8x AGP can dish out!
I don't think we'll hear any complaints about there not being enough bandwidth between the system and videocard anytime soon. Yet, should that time arise, it's nice to know the PCI Express architecture is a lot more scalable than AGP!