Given that Linksys is now a division of Cisco, this bias is not particularly surprising, but it does get irritating when almost every reference to networking hardware in the book is accompanied by a Linksys model number. It's easy to see the networking newcomer (the target market) not realizing that there are effective alternatives to Linksys available such as 3Com, SMC, D-Link, Belkin, Netgear and Trendware. Worse, the reliance on Linksys hardware makes several of the step-by-step guide sections, notably those concerning home routers, mostly irrelevant to users who are not using the 'correct' devices.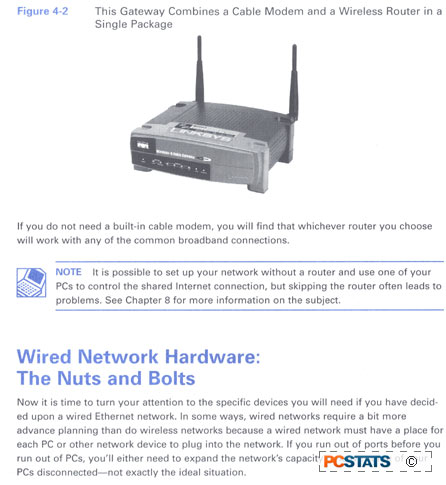 The fact is, most home routing devices do operate in a similar manner. With this in mind, there should still be benefit in the step-by-step guide sections even for non-Linksys users, except that no attempt has been made to inform the reader of any measures that should be taken to compensate for their differing equipment when using the guides.
As one example, Linksys routers generally use '192.168.1.1' as their default IP address. Other manufacturers use different numbers for their routers, but the book makes no mention of this possibility. It simply tells the reader to enter '192.168.1.1' to access the control panel of their Linksys router. While you can safely assume that the majority of readers faced with the lack of a Linksys router would (after a brief period of confusion) consult their own router's manual for the correct address, I have a feeling that this kind of inflexibility will lose some readers.
This is unfortunate, as a brief aside to the tune of 'if you are not using a Linksys router, consult your documentation for the correct IP address.' Would do wonders to increase the friendliness and usability of this guide. Cisco Press and the author seem to be sacrificing some of their book's usefulness to beginners for the sake of selling more hardware, which is unfortunate and shortsighted. To be fair, Linksys does make excellent networking equipment, so it's not like the reader who buys into the theme is being led astray.
Conclusions
I have mixed feelings about Cisco's "Home Networking: A Visual Do-It-Yourself Guide". On the one hand, it's a simple to read, affordable and comprehensive guide containing everything the network newbie needs to know about setting up his or her network. This goal is accomplished without unnecessary technical information getting in the way, but without dumbing things down and insulting the reader either. This is always a fine balancing act for computer publications targeted at beginners, and the author, Brian Underdahl, pulls it off well. Cisco's Home Networking: A Visual Do-It-Yourself Guide is well written throughout, and effectively illustrated.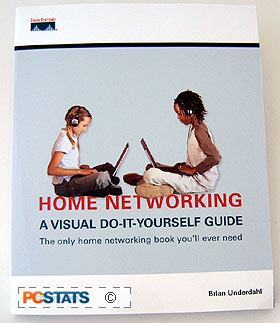 On the other hand, there were a couple of troubling omissions. Most notable was the absence of any sort of information on router firewalls. If you are going to advise a user to purchase a device containing a firewall, you need to tell them how to use it, or at least tell them it's there.
The book's failure to do this could lead to intense frustration on the part of users trying to run peer-to-peer file sharing, or voice chat software on their networks, to mention just two potential trouble areas. The complete reliance on Linksys hardware throughout the book is a negative also, as few steps have been taken to help those users who may not choose to buy Linksys devices or currently own other brands of networking hardware.
Yet on the whole, PCstats opinion of this 175pg book is positive. The missing elements do not outweigh the overall usefulness of Cisco's "Home Networking: A Visual Do-It-Yourself Guide". As we said, the non-technical reader we got to look at it gave it high marks, which to us means that the book is hitting its target.