Cisco Home Networking: A Visual Do-It-Yourself Guide
---
Home networking can be a daunting topic for computer users who are unfamiliar with the intricacies of network technology, even if Windows XP's new features make the process vastly easier than it used to be. To help home users out with this essential subject, Cisco Press recently released a new book entitled "Home Networking: A Visual Do-It-Yourself Guide," by Brian Underdahl (ISBN: 1-58720-127-5).
Retailing for US$24.95 (CDN$35.95), this 175-page softcover book falls into the lower-priced category of computer guidebooks, which certainly makes it an easy addition to your tech library.
The format of the book combines well-spaced informational text (with bullets where necessary) with separate, colour coded 'step-by-step' sections describing and illustrating the actual procedures with clear photos. Handy tips are interspersed throughout the book, and contain relevant information to each section. A 'what went wrong' trouble-shooting section ends most chapters, providing a list of the most common potential problems and a brief guide to resolving them.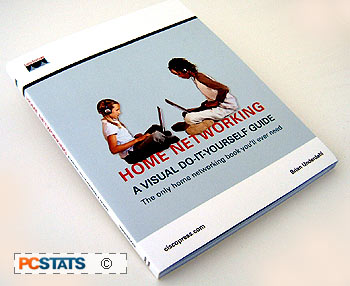 The text is informative and well written throughout, and the author obviously knows networking through and through. The step-by-step guides cover all Microsoft operating systems from Windows 98 up to XP, which is a nice touch for users of older systems.
Contents
The first section of the book (chapters 1 and 2) deals purely with explaining the concepts of computer networking and the functions of common types of networking hardware. It also introduces the reader to the functions that a home network can perform. Note that there is little to no actual technical information in these first chapters, as the author sticks mostly to metaphors and simplifications in order to explain networking to someone who may be unfamiliar with the subject. This is a sensible approach for a practical guide to networking, and it met with the approval of the 'non-technical' reader that we had look at this section.
Cisco's "Home Networking: A Visual Do-It-Yourself Guide" second section (chapters three through six) forms the bulk of the book, at least where a network setup is concerned. These chapters deal with selecting, purchasing, installing and configuring a basic home network with Internet sharing (provided by a home router). Chapters three and four (selecting and purchasing network hardware respectively) should probably have been condensed together into a single chapter to ease potential confusion.
As it is, exactly what the user needs to purchase for his or her network is scattered throughout the two chapters. The author does go into detail about wireless standards and alternative home networking options such as phone- and power-line networking, so bonus marks for that.
Chapters five and six deal with installing your network and setting up each PC to communicate with each other and the router. This section is extremely well done, and the 'visual' claim of the book is borne through as many helpful illustrations are provided. One troublesome point though... the book does not include any instructions on configuring a router to use a PPPOE broadband (DSL) connection. Since this requires the user to add the username and password for the connection to the router, some time spent on this point would have been helpful. To be fair, any router manual should cover this procedure.
The third and final section of the book comprises chapters 7-9. The essential topics here are security, file sharing and finally some home entertainment options that your network can provide.