MSI 915P Neo2 Platinum Motherboard Review
---
There are many reasons to why Intel moved from a pinned processor package, to pinless. The skeptics will say that Intel wanted to stem the flow of RMA's from processors with broken pins, but if you do a little digging, the real reasons are somewhat more complicated. The introduction of Socket 775 addressed a variety of issues with Socket 478; like excessive pressure from heatsinks which flexed the motherboard, not enough power-related pins to deal with high power consumption of emerging cores, and a few other points slightly more technical in nature.
If Intel had decided to introduce a higher pin density, it would have had to use a substantially larger substrate, which would have taken up more real estate on an already space deprived motherboard. Furthermore, if you divide the number of pins by the area of the processor you'll find that Socket 775 chips are among the most dense ever. A 775-pinned solution would have posed another problem; packing all those pins into the same small space would have meant even more fragile pins than used with the socket 478 design.
On the power front, next generation processors are drawing much more electricity and die shrinks aren't helping the situation as they once could. So the question arrises of how to feed future generation processors with the power requirements of yesterday's CPU socket architecture? According to Intel, Socket 478 Pentium 4's allocate 85 pins for power, 180 for ground. This is intended to power single core processors that chew up around 100W of power. Socket 775 on the other hand has a total of 523 power related contacts, 250 for power, 273 for ground! More contacts means more stable power for the processor, so you can bet that this form factor was designed with future generations in mind. If the roadmaps continue unchanged, socket 775 should be the defacto Intel desktop standard for the next two years.
One point not to be missed in all of this is that the socket 775 retention mechanism is a precision piece of engineering, and proper installation and care is important. To help alleviate potentially problems, MSI have included a small plastic installation tool to make inserting the socket 777 processor a little easier, and foolproof. It's a handy tool for people who avoid instructions manuals.
In this article, PCstats will be reviewing MSI Computer's brand new 915P Neo2 Platinum motherboard which is built with the performance user in mind! This full-size ATX motherboard includes a comprehensive feature set, from IEEE 1394 (for your high speed external multimedia devices like HDDs, scanners, MP3 players, etc), to an additional IDE RAID controller, Gigabit PCI Express ethernet controller, and Intel's Azalia onboard 7.1-channel audio. For future expansion requirements, the 915P Neo2 Platinum has thee regular 32bit PCI slots, two PCI Express x1 slots, and one PCI Express x16 slot for your videocard. The four dual channel memory slots support DDR-2 533MHz memory.

MSI 915P Neo2 Platinum



Includes:

Users Manual, Quick Installation Guide, CPU Instructions Paper, One Rounded IDE cable, One Rounded Floppy Drive Cable, Two Serial ATA cables, Molex Y Serial ATA Power Cable, IEEE 1394 Bracket, USB Diagnostics LED, CPU Installation Guide, RAID Floppy Driver Diskette, Driver CD, Free PCI 802.11g Wireless NIC Coupon
As things get faster, components run hotter, that's a simple rule in the world of computers. Like every other high performance motherboard, the 915P Neo2 Platinum generates a ton of heat itself. The best way to mange the heat inside a case is with good airflow; the Southbridge for instance is one of the hottest points on the motherboard since the heatsink is so small, so continual airflow is advisable.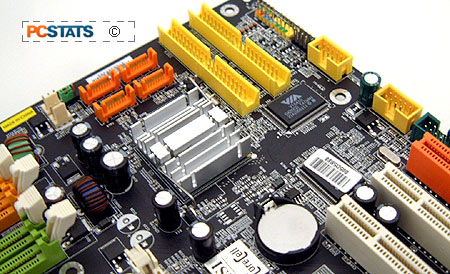 While the days of IDE hard drives are numbered, IDE devices still greatly out number Serial ATA in the desktop.
MSI illustrate user-friendly foresight by including a VIA 6410 IDE RAID controller on the 915P Neo2 which is capable of running in RAID modes 0, 1 and 0+1 - or it can simply run two channels of IDE drives standalone.
Enthusiasts in the crowd should be pleased to know the 915P Neo2 motherboard comes with a total of four fan headers. That's great for those who want to keep their systems running in prime condition.