MSI DR16-B Dual-Layer DVD Burner Review
---
A few years ago I joked with some friends that I would quit computers altogether if I lost my MP3 collection. With 60GB+ worth of music, backing all of it up onto CD was not an option, or not one that was realistic in my mind anyway. Now things are different thanks to the advent of DVD writers. On a single-layer burner it would take about 13 discs to properly archive that data; with a dual-layer burner it would only take around seven. Sounds pretty good to me!
A huge benefit of dual-layer DVD writers is the ability to fully backup DVD movies. For example, no matter how well you store your original DVD discs, they'll eventually get scratched up. Now you don't have to worry about the originals; make a backup and once the main disc is no longer useable, simply throw it away.
Conventional recordable DVD media stores data on a single 4.7GB plane (level) of the disc. On dual-layer DVD media, there are two recordable 'layers' which can both store up to 8.5GB of data. Obviously, dual-layer media can store quite a bit more information on each disc with this setup. We'll go deeper into how the technology works later in this article.
Today we're looking at MSI's new DR16-B dual-layer DVD burner. The DR16-B is capable of burning DVD+/-R media at a blistering 16x, DVD+/-RW at 4x and most importantly, dual-layer DVD media at 2.4x. Of course you can still burn conventional CD recordable media and the MSI DR16-B flies along at 40x for CD-R, and 24x for CD-RW. Read speeds are listed at 16x for DVD media, 40x for CD. Included in the retail package are Nero Burning ROM, InterVideo WinCinema (which includes WinDVD Creator and WinDVD), mounting screws and a four pin analog audio cable.

MSI DR16-B DVD Burner

Includes:

Quick Installation Guide, Software CD, Analog Audio Cable, Drive Screws
The MSI DR16-B's face is plain, beige in colour, and that's the way I like my optical drives. The MSI DR16-B does not have a headphone jack, so those of you who like to use your CD-ROM like a CD player will be out of luck on this one. Chances are you'll be spending so much time watching DVD's through a home theatre speaker set up that you won't notice this shortcoming though.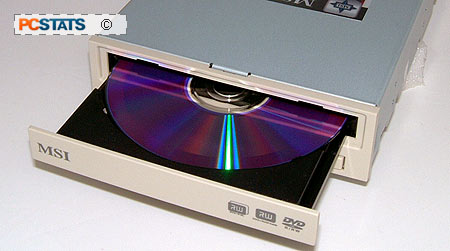 At 20cm in length the MSI DR16-B is full size, so take care if you are installing it into a minitower, or SFF PC.
The DR16-B can be mounted on its side thanks to the clips on the tray that will hold the CD in place vertically.
At the rear of the DR16-B drive we find the usual ports: a two-pin digital and four-pin analog audio headers, the Master/Slave/Cable Select jumper, IDE connector and Molex power connector. They're labeled so you shouldn't have a hard time setting up the drive.
The MSI DR16-B is compatible with all the usual writing methods. Packet writing, TAO (Track at Once), DAO (Disc at Once) as well as DAO/96, SAO (Session at Once), Multi-session, Variable Packet Writing and Fixed packet writing methods are all supported.
During testing, the drive was only loud during the initial spin up sequence. After that it was very quiet even when reading CDs or DVDs at full speed. There was no vibration and the DR16-B did not get hot to the touch so you shouldn't have to worry about cooling.