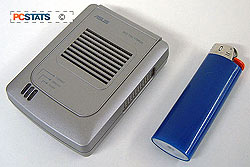 The Asus WL-330 measures about 3 x 2 x 1 inches in size. This little gray box looks somewhat like a carbon monoxide alarm, with only the row of three LEDs on the front giving away its actual purpose.
The device weighs almost nothing, and could be comfortably carried in a shirt or pants pocket as the two 802.11b antenna's it has are self contained. The LEDs represent Ethernet connection status, wireless connection status and power respectively.
The only other notable feature of the Asus WL-330 is the small switch underneath that shifts the device between Access Point (AP) mode and wireless Network Adaptor mode. Round back is the Ethernet jack, power port, and a reset switch.

The Asus WL-330 came bundled with a small array of extras. Aside from the expected manual and CD, you get a 12" long Ethernet cable, a AC power adaptor and a USB power cord for powering the device in wireless adaptor mode. Holding everything together is a neat zip-up carrying case that is comparable in looks and size to a daytimer. This holds the WL-330 and its accessories, but not the manual and CD. We were quite pleased with the bundle overall, especially the case; it certainly comes in handy when travelling.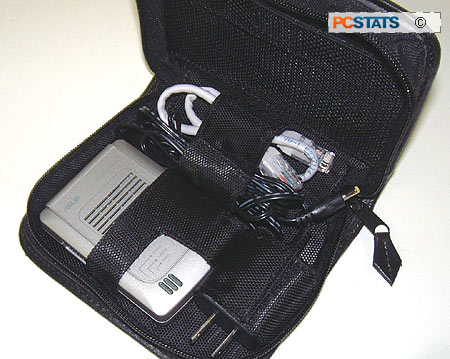 The 16-page manual is well-written and concise. Instructions for using the software are minimal but adequate and a nice little section of how-to's are included at the end. These projects include using the WL-330 to act as a wireless converter for your cable/DSL modem, and even using it to add wireless networking functionality to your XBox or PS2. The CD includes a quick start guide identical to the printed manual and a much more comprehensive full manual in PDF format. We were quite impressed with the documentation overall.
Features on the Asus WL-330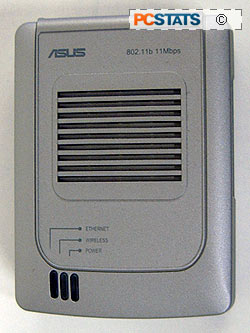 The Asus WL-330 is pretty plain in terms of wireless networking features. It supports the 802.11b standard and is capable of WEP encryption only. No firewall is included with this device, though it does provide for MAC filtering and SSID broadcast disabling as secondary forms of wireless security.
As an access point, the WL-330 supports ASUS's Wireless Distribution System for stringing together access points into a coherent wireless network. This is a nice business feature to find in such a small product.
A small switch underneath the device converts it to a wireless adaptor. In this mode, you can connect it directly to a standard Ethernet jack on your notebook or PC via the Ethernet cable.
As long as your network adaptor has an IP address in the same range as the WL-330 (default 192.168.1.1) you can configure the device and use the browser-based interface to access wireless networks. In this mode, the Asus WL-330 works much like a cable or DSL modem, except it connects to wireless networks rather than the Internet.
This is an interesting way to go about things, but in our mind it's not an ideal solution since it prevents Windows XP from seeing the connection as 'wireless' and using Service Pack 2's excellent set of wireless connection tools. On the other hand, if you are not using WindowsXP, it's a good connection solution.