The Asus WL-330 features a browser-based configuration interface similar to those found on almost all home routers and access points. We'd have to say that ASUS's software designers could have picked a better colour scheme for the interface; it's just flat-out ugly, but it works. As for the actual controls, everything you would expect is there, and ASUS wisely chose to the list of options to just three screens.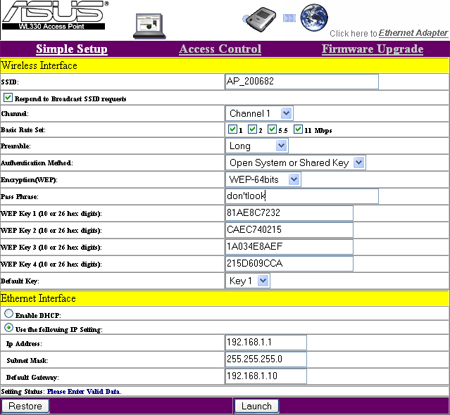 The Asus WL-330 is an access point and not a router, so it needs to be configured to fit the existing network. It ships with a default IP address of 192.168.1.1, but this can easily be changed or set to automatic (DHCP) addressing via the configuration page. Since the device ships with WEP encryption disabled by default, we'd recommend that you connect to this device only with your PC via wireless adaptor until you have configured and enabled WEP on the wireless network. For the reasons why we'd recommend this and more about WEP, see PCstats extensive guide to wireless security.
The utility that comes on the CD can also be used to detect and configure the access point, but offers nothing that the browser interface does not already have. Overall, we found the Asus WL-330 easy and straightforward to configure.
As a wireless network adaptor, the WL-330 can be configured through the browser-based interface as well. A link near the top of the screen switches you into adaptor mode.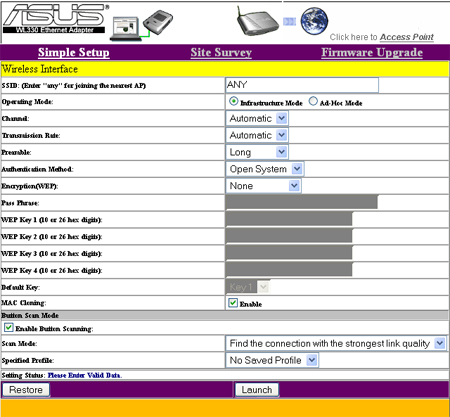 The usual configuration options are present here as well. One annoyance that we noticed immediately was that Windows XP does not pick up on the fact that the WL-330 is a wireless adaptor. Of course, it wouldn't since the device is actually connecting to your existing Ethernet port, but it means you have to use the browser-based wireless network finder included on the WL-330, which is not the most ideal solution, though it is functional.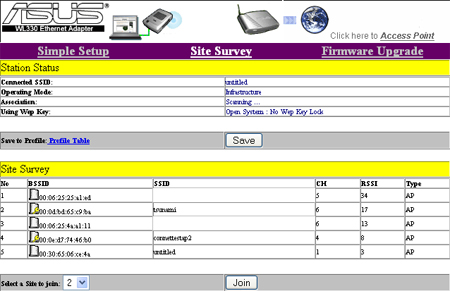 In our tests, the wireless range of the Asus WL-330 was adequate, which was what we had expected. The device has two fixed internal antenna's, and is well able to provide a signal throughout the PCstats lab - a moderately sized office, cubicles and all. Certainly good enough for a small house, apartment or hotel room too (and probably the rooms next to you also). Signal quality was fine. Otherwise, once configured the Asus WL-330 just does what it's supposed to do.